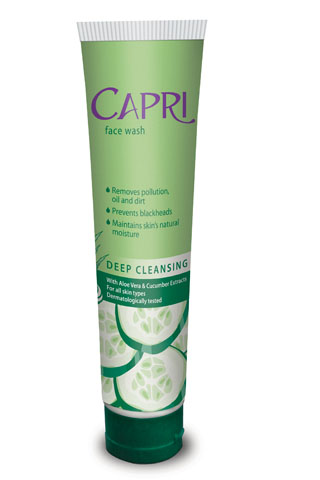 Capri, Pakistan's historic beauty and personal care brand is proud to announce the new Capri Deep Cleansing Facewash marking the brand's entry into skin care. With its technological superiority manifest in the Capri Deep Cleansing Facewash, the brand brings to Pakistani women a commitment to fresh and purified skin, cleansed of daily oil and grime with clear open pores. Indeed the entry into skin care marks the fourth major innovation by Capri in 2011, followed by the introduction of their new soft packaging for soaps, the launch of four distinct soaps in Pink, Blue, White and Green and their critically acclaimed Capri Moisturising Handwash.
In keeping with the brands' philosophy of capturing natural goodness and beauty through engaging time tested ingredients, Capri Deep Cleansing Facewash, is enriched with Cucumber and Aloe Vera, capturing two of history's best skin solutions. Available in two economical compact tubes of 50 ml and 100 ml, the Capri Deep Cleansing Facewash is gentle on the skin while offering thorough and deep cleansing, guarding against skin problems such as black heads stemming because of oil, dirt and pollution. Dermatologically tested, Capri Deep Cleansing Facewash is recommended for all skin types and offers the benefits of moisturising by maintaining the skin's natural moisture balance. Capri Deep Cleansing Facewash drives radiance and beauty, leaving the skin pure and fresh through the refreshing effect of cucumber along with the natural healing remedy inherent in Aloe Vera. The Capri Deep Cleansing Facewash also contains Cocamidopropyl Betaine, driven from natural coconut oil. Also present is a glycerine component which is widely known for its moisturising action, thus further protecting the skin against dryness. It is further enriched with Vitamin E which is known for its antioxidant properties.
Speaking about the launch of Capri's latest innovation in skin care, GM – Marketing & Sales, Mubashir Ansari has said "Capri Deep Cleansing Facewash is ZIL's entry into skin care, and as a product, we are focusing on the efficacy of delivery and the usage of the best skin care ingredients that consumers look for. As a company, this is just the first step into skin care, and we plan to extend into other segments of skin care in the future, and serve the Pakistani beauty market with care."
Indeed Capri Deep Cleansing Facewash is the second step in the brand's series of product line extensions and with this, Capri continues to expand its portfolio making it a complete Pakistani beauty and personal care brand. Capri Deep Cleansing Facewash will be in stores from 11th October 2011 across Urban Metro Pakistan.