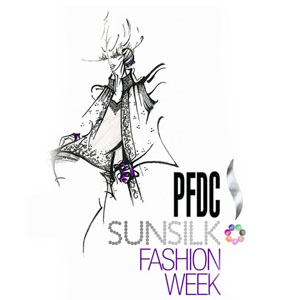 Following the success and wide critical acclaim of their two previous weeks of fashion in Lahore [February 2010] and Karachi [November 2010], the Pakistan Fashion Design Council and Sunsilk are back in the cultural capital of Pakistan with their third PFDC Sunsilk Fashion Week presenting luxury/prêt a porter fashion for the season.
PFDC Sunsilk Fashion Week March/April 2011 will be showcasing 25 designers encompassing both the leading names from the industry and exciting emerging talents that the platform continuously aspires to promote through its platform. This season, PFDC Sunsilk Fashion Week will be staged on the 29th, 31st and the 1st of April with no shows scheduled for the 30th of March given the significance of the country's Cricket World Cup 2011 semi final match with India to be played the same day. In an organic expansion of the platform and indeed for the first time in Pakistan, the PFDC executive committee introduce afternoon voile shows prior to the luxury/prêt a porter evening shows and daily post-show exhibition stalls at the venue itself, allowing buyers, media and consumers to view collections shown on the ramp the previous day.
Participating designers showcasing their luxury/prêt a porter collections this week include Adnan Pardesy, Akif, Ali Xeeshan for Crimson, Ammar Belal, Asifa & Nabeel, Beekay, Emraan Rajput, Fahad Hussayn, Fnk Asia, HSY, Karma, Khaadi Khaas, Mohsin, Nickie Nina, Republic, Rizwanullah, Sadaf Malaterre, Sahar Atif, Sarah Salman, Sublime by Sara,  Feeha Jamshed for Teejays, Yahsir Waheed, Zaheer Abbas & Zara Shahjahan.
Speaking about the PFDC Sunsilk Fashion Week platform, Chairperson of the Executive Committee of the Pakistan Fashion Design Council, Sehyr Saigol said: "We are proud to bring to you an even bigger PFDC Sunsilk Fashion Week staged at Lahore's premiere trade venue. In keeping with the PFDC's commitment to formalise and expand fashion the dynamics of fashion in Pakistan, we have introducing a separate section for voile shows and an entire exhibition space. Indeed we continue to believe strongly in our oft-stated conviction that with regular and consistent fashion weeks, we are working towards the vital process of commercialising Pakistan's fashion industry on a viable long term basis. We believe that this platform encourages the business of fashion, from the consistent employment of a skilled workforce to opening up retail opportunities and associations with synergies between indigenous craft, textile, brand and high end design."
Chairman Unilever Pakistan, Ehsan Malik said "The purpose of the Sunsilk partnership with the Pakistan Fashion Design Council is to boost the business of fashion and bring the very best of Pakistani fashion to Sunsilk consumers across the country… The PFDC Sunsilk Fashion Week is a major initiative for us and provides us a great opportunity to take contemporary fashion into the homes of the Pakistani consumers"
As a platform, the PFDC Sunsilk Fashion Week has built itself as an institution for designers, retailers and now textile houses to showcase their labels and brands, working towards refining and formalising the dynamics of corporate patronage towards fashion, streamlined retail and collection showcases and production et al within the industry. It also promotes Pakistan's positive work across the international and national media. Indeed to achieve this, the PFDC works hand in hand with its accomplished corporate board members including Roshaneh Zafar, founder and managing director of Kashf Foundation and Chair Kashf Holdings; Chairman of the PFDC Board Avais Mazhar Hussain, the force behind Angora Textile also resides as Chairman on the boards of the Lahore Garment City Company and the Pakistan Institute of Fashion & Design, Lahore; CEO PFDC and Karma, Saad Ali; Seema Aziz, the powerhouse behind Bareeze and CARE Pakistan; leading denim wear entrepreneur Shoaib Shafi of Stoneage and Azfar Hassan of cutting edge and ethical buying office Matrix Sourcing.
For Fashion Week specifically, PFDC and Sunsilk engage a dedicated team of experts and specialists including Alexandra Senes as the PFDC's fashion representative in Paris, technical consultant and experienced French fashion designer Isabelle Ballu, Frieha Altaf of Catwalk Production as show producer who also co-choreographs shows with fashion powerhouse HSY, event coordinators at the R Team, technical consultant Asim Naeem, Designer Management and Buyer Sourcing Consultancy through The Little Black Book, Buyer and International Media focused consultants Latitude and Public Relations by Lotus PR.