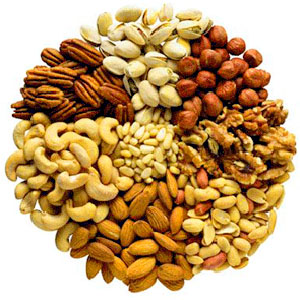 The speciality of Pakistan, its dry fruit, is a highly nutritious and healthy snack, enjoyed by all in the winters.
Winters in Pakistan, are a time to pull up a blanket, snuggle up close to a loved one, bring out the platter of dry fruits with a mug of steaming coffee.The dry fruits of Pakistan, which are a favorite amongst all Pakistanis, consist of a variety of nuts, like almonds, cashewnuts, walnuts, raisins, dried apricots, and the very expensive but equally nutiritous pinenuts. These dryfruits are all a powerhouse packed with minerals, vitamins, various nutrients and the very important Omega-3 and 6 fatty acids. These fatty acids are very important for the body but cannot be produced by the body itself.
Winters in Pakistan are the most favorite season for all, and if you don't indulge yourself in the array of traditional Pakistani dry fruits then you're really missing out on a prime food experience.
Not only are they pleasing to the taste buds, but they can help your body fight off many fatal and seasonal diseases, like colds, flu, cancer, various skin problems, and contrary to popular belief they help to lower cholestrol levels in the body. Many dry fruits, such as almonds, actually help to lower weight, and helps prevent cardiac problems and diabetes. Walnuts, which are very popular, contain an abundance of antioxidants, which again helps in lowering cholestrol levels.
Another very famous dry fruit, is the cashew nut, which is actually a seed, and is found on the end of a cashew nut apple, on a tree. Cashew nuts incorporate a blend of very healthy and important nutrients and minerals. It consists of a very high amount of protein and essential minerals. They contain a lot of the 'good fat', which is actually good for you, and an enormous amount of energy.
The Omega-3 and 6 present in dry fruits, helps to build your brain power and is vital for growing children. They also are a key ingredient to ward of dryness of skin in winter and help lower cholestrol levels. They also help the heart beat normally.
Many doctors and nutritionists recommend that these nuts and dry fruits should be consumed all year round, but because of the extreme weather patterns of Pakistan, Pakistanis tend to associate a wholesome platter of nuts, dryfruits, and seeds with the cold weather. But it's a very healthy idea to incorporate a small amount of various nuts and seeds into your everyday diet. Consuming a small amount of dry fruits in your daily diet will help to strengthen your immune system, control your cholestrol level, and keep you alert and attentive.
So, how about bringing out the dry fruit platter, loading it up with healthy goodies and indulging yourself the healthy way this winter.