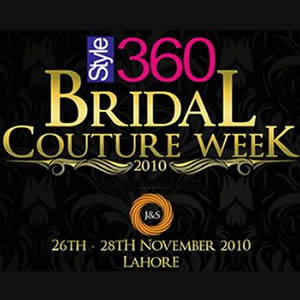 Style360 in association with J&S and sponsored by Pantene presented Pakistan's first Bridal Couture Week which was a resounding success. With the first day featuring three designers – Nomi Ansari, Ali Xeeshan and Mehdi; and the second day divided into two segments with four designers in the first segment – Amna Ajmal, Sehar Ali, Shazia Bridal Gallery and Nargis Hafeez; and three designers – Fahad Hussayn, Men's Store and Lajwanti –in the second segment, Lahore has witnessed some brilliant shows. Day 3 was a brilliant line-up with Ather Shehzad's Hair & Make-up show, HSY, Asifa & Nabeel, Hoorain in the first segment, and the second segment was opened by  the famous Indian director-cum-designer Muzaffar Ali  followed by Shafaq Habib and the grand finale for the Bridal Couture Week was done by Nilofer Shahid.The three-day event was a blockbuster in terms of audience turn out as well, as the rooftop was jam-packed with a highly receptive audience comprising more than thousand people per show that only grew bigger as each day passed by.
The main sponsor of the event was Pantene. The event was held at the Royal Palm, Golf & Country Club. The co-sponsor for the event was Al-Razi & Warid.
As daunting a task as it was getting 35 models together from Lahore & Karachi and trying to coordinate with 17 designers and their different looks, J&S and Style360 team successfully managed to accomplish it.
Working on each designer's different philosophy and look required a professional team of Hair & Make-up Artistes.  For that purpose, each day was designated to four different stylists: Depilex, Khawar Riaz, Tony & Guy and Ather Shahzad.
The credit choreography for the three-day Bridal Couture Week goes to HSY. The show was produced by Vaneeza Ahmed and directed for television by Nasir Teherany of HUM Network.