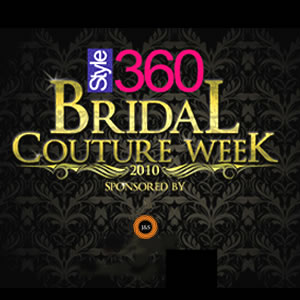 With the presence of such a huge wedding industry in the country, Style 360 and J&S collaborate to bring forth Pakistan's first Bridal Couture Week. This aims to bring talent together under one roof to not only showcase the latest and upcoming trends, but also to serve as a platform to exhibit and connect directly to the end users, i.e. the public. Bridal Couture Week 2010 aims at providing all the stakeholders with an opportunity to showcase, book and engage their direct customer base.
Set in the cultural capital of the country, Lahore, Bridal Couture Week 2010 will run from the 26th to the 28th of November. The three days will showcase an exhibition area, a fashion show runway, and an exuberant media package that will be a treat for viewers, guests, attendees and all the people involved in this endeavor.
This event is not just a platform for exhibiting local and international talent and services but a stage that facilitates business relationships. All the different businesses that form the wedding industry of Pakistan are expected to take part in the event. People from all over the country are expected to gather and witness this great fashion event; to have a glimpse at the ethnic contemporary variety of Pakistan.
Event:         Bridal Exhibition & 18 Fashion Shows
Date:            Nov 26th to 28th 2010
Time:           10:00 – 22:30
Event Organizers:     Style 360 – HUM Network and J&S Event Management
The event consists of fashion shows by 18 different designers and an exhibition area. The exhibition area will house stalls for participants where they can display their creations, register clients and take orders.
EVENT HIGHLIGHTS
Designer ramp shows
Makeovers with renowned makeup artists
Honeymoon packages
Exclusive bridal workshops
Men's wear/ women's wear designers
Hair and beauty feature area
Family planning advisors
Florists
This event is guaranteed to attract a huge number of visitors for a number of reasons. Wedding celebrations are traditionally given great importance in our culture and every segment of society is willing to spend on this special occasion. This event will be a one stop shop for all wedding needs, including but not limited to:
3 days of bridal fashion shows featuring 6 designers each day
Designer creations for the bride and groom
Designer creations for the bridal trousseau
Wedding planners
Jewelers
Florists
Invitation card designers/printers
Furniture
Shoe designers
Honeymoon packages
Family planning advisors
The designers who participate will be able to showcase their collections both on the ramp and exhibit as well in the exhibition zone. The entire event will be covered by Style360, as well as all the major print and television channels of the country.

EXHIBITION AREA
At Bridal Couture Week, we will give businesses a chance to exhibit advertise themselves. Exhibition advertising is a blend of 'exhibition' and advertising' where a business can showcase its products and services to the target audience. Exhibitions prove profitable for companies who want to display their products to a vast number of prospective customers in a short span of time, thus saving on time and money.
At Bridal Couture Week, 80 stalls will be up in the exhibition area where businesses will be able to connect directly to the end consumer by showcasing their collections/ products, taking orders, booking appointments and registering clients. The stalls will be taken by various businesses such as designers, florists, makeup artists, furniture makers and travel agencies and will be able to showcase their products and services over the spread of the 3 day event. The motive behind displaying these will be to grab the attention of prospective buyers, resulting in sales.

FASHION SHOW
The event is spread over 3 days (26th, 27th, 28th November) with 6 designers showcasing their work each day. The show is divided into 2 segments- evening and night, with each designer getting 30 minutes to showcase their collections on the ramp. The segments are as follows:
SEGMENT 1
Designer 1
4:30-5pm
Designer 2
5:30- 6pm
Designer 3
6:30- 7pm
ONE HOUR BREAK
SEGMENT 2
Designer 1
8- 8:30pm
Designer 2
9- 9:30pm
Designer 3
10- 10:30pm