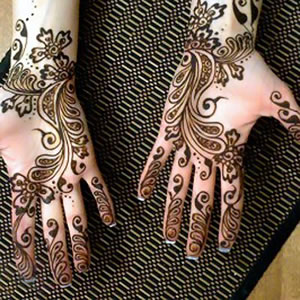 'Mehndi Lagao ge main Sajna kay naam ki' the symbol of love and happiness, Mehndi is a story of girlish charms, it's delicately designed intricate patterns are the words that portray her emotions, her tender feelings, and her hidden desires that no one knows. Mehndi is a symbol that shows that a young naive virgin is ready to transform into a temptress for her husband. Mehndi is undoubtedly a trademark of Pakistani weddings.
Wedding season seems to be going in full swing these days. Where fancy dresses, colorful bangles, dholki and traditional geets are considered a must shaadi ingredient, there you cannot deny the seductress charm of hennaed hands, loaded with flirty bangles. The subtle fragrance that those beautifully designed hennaed hands omit feels sweet, innocent and extremely irresistible.
There are many traditional beliefs connected with Mehndi, in ancient Kama Sutra culture, Henna is  one of the sixty four arts of women. Popular motifs of the bridal Mehndi are conch shell, flowers, Kalash, peacock, doli and baraat patterns. The intricate motifs of the bridal henna also hide the husband's name. It is said that the husband's name in the intricate henna motifs is made for the groom who has to find out his name in his bride's Mehndi to impress his girl. Another interesting belief about Mehndi is that the darker and deeper the henna stains, the more the husband and the in-laws will love the bride.
The subtle sensations of ethereal beauty and seduction that Mehndi sends is terribly hard to avoid, it captures in it the youthful aura of feminine lure. Fashion Central has gathered some lovely Mehndi designs to color your wedding days with the charm of this exotic feminine temptation.