Shameel Khan promises an elaborate experience of festivity and celebration through noble simplicity blended with sheer splendor of unique eras in their latest collection.
Their tailored variety is a combination of diverse conceptualization and masterly expertise making their collection a wedding essential for every groom.
Sherwani for men or especially for groom, which is a famous outfit of all times, has been an important choice since many years. Since a very long time, this dress has been reflected as the right choice for wedding.
The groom can either choose for a simple sherwani that is a classic black sherwani style or can choose a designer sherwani with experimental cuts and exquisite embellishments, from a designer label like Shameel Khan.
Shameel Khan offers a massively huge variety of silhouettes and color variation for our patrons to choose from. Our wedding dress for men are extremely awaited every season for their signature cuts and patterns and exquisite aesthetics that celebrate masculinity.
The all new Shameel Khan Collection features stunning pieces which have a strong emphasis on the traditions of Pakistan, particularly featured is the Sherwani, aimed specially for the modern grooms.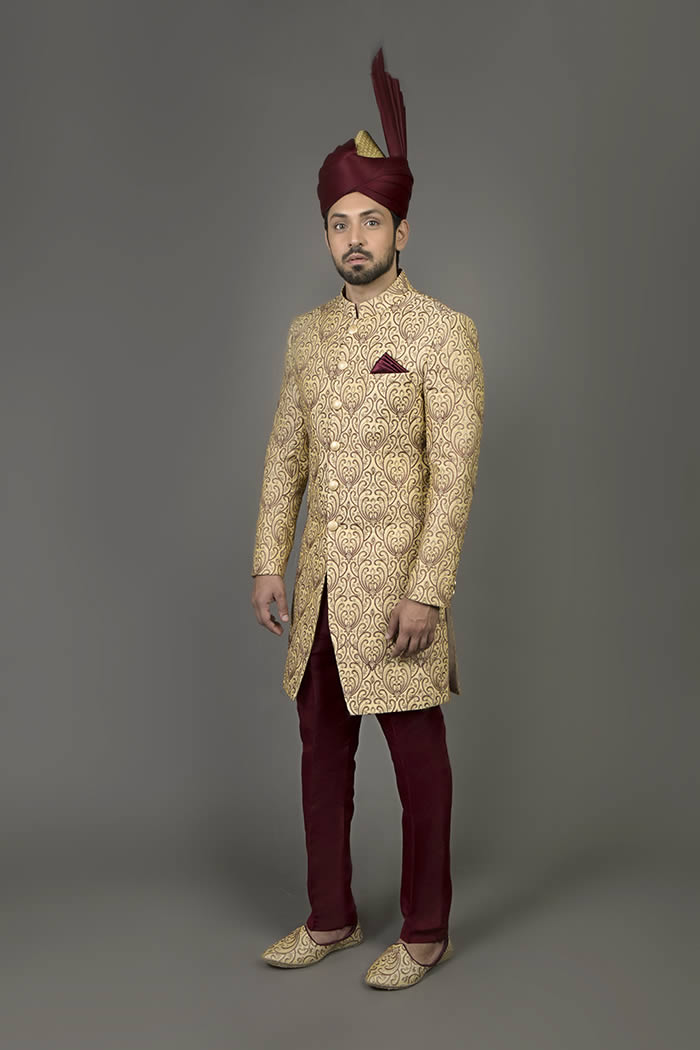 A Basic Gold and Red Jamawar Sherwani with premium quality threadwork is an impeccable addition to your festive look. This latest design comes up with a ban collar and the trendy fish cut style along with Maroon trouser and a matched pair of khussas. We also bring to you a matching Gold and Red Aitchisonian Qulla as an add on!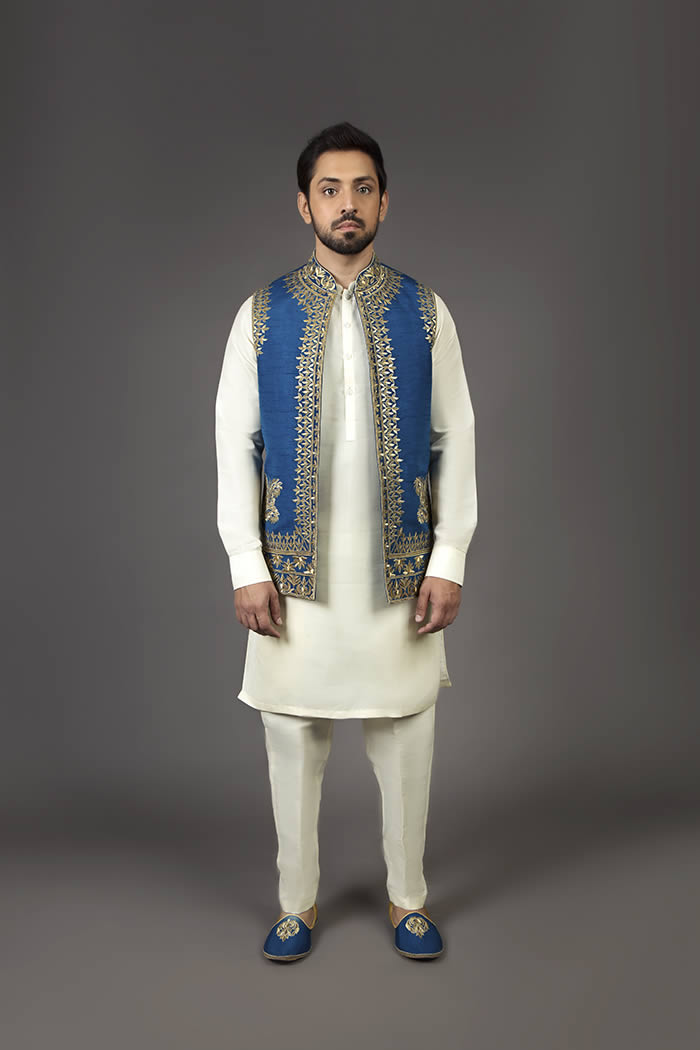 When attire becomes your definition! This all new pinch of crème (off white) premium Raw Silk kurta with ace stitching and finishing is bound to be admired by everyone around you. Tailored to perfection in an excellent regular fit pattern, contemporary length and straight hem. Focusing greatly on clean cuts and minimalism, Shameel Khan's Collection presents this Sea Green Pure Raw Silk Waistcoat with Tila Embroidery along with matching khussas that will make you stand out in all your regality, presenting the new world of culture and traditions.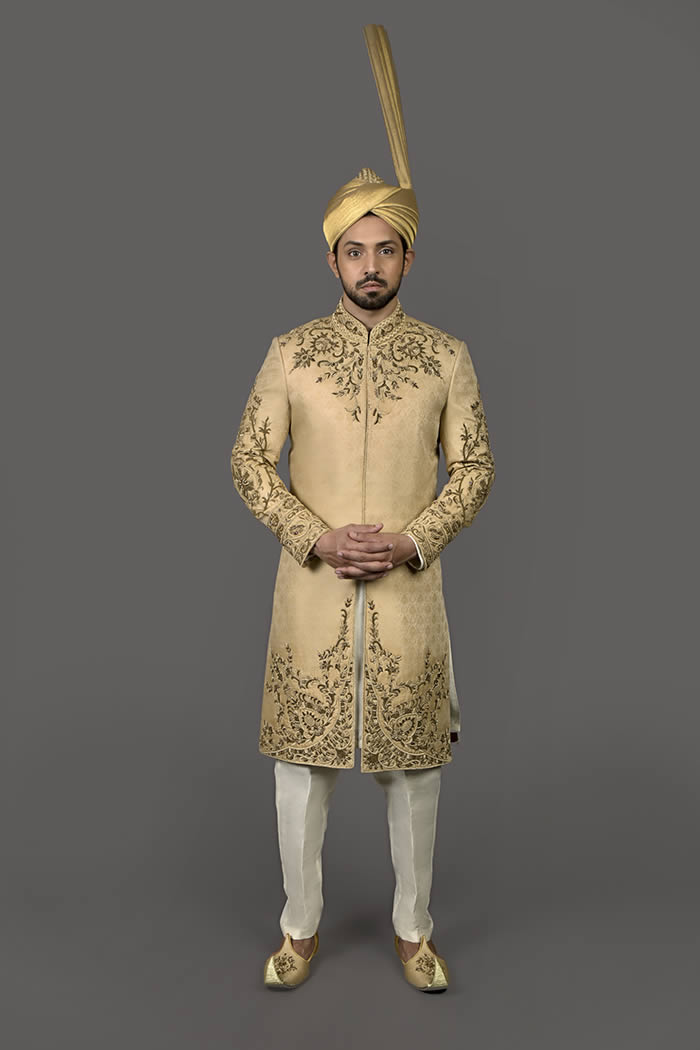 Bringing in the ethereal sense of design, this attire reflects its commitment to heritage and is as versatile as it can be. This exquisite Gold self-textured pure jamawar sherwani radiates elegance and class with its intricate hand embroidery of Kora & Dabki and top notch tailoring. The complete package includes pure white inner suit, a pair of matching traditional khussas made with the same fabric and Gold Aitchisonian Qulla. Perfect attire for the wedding season!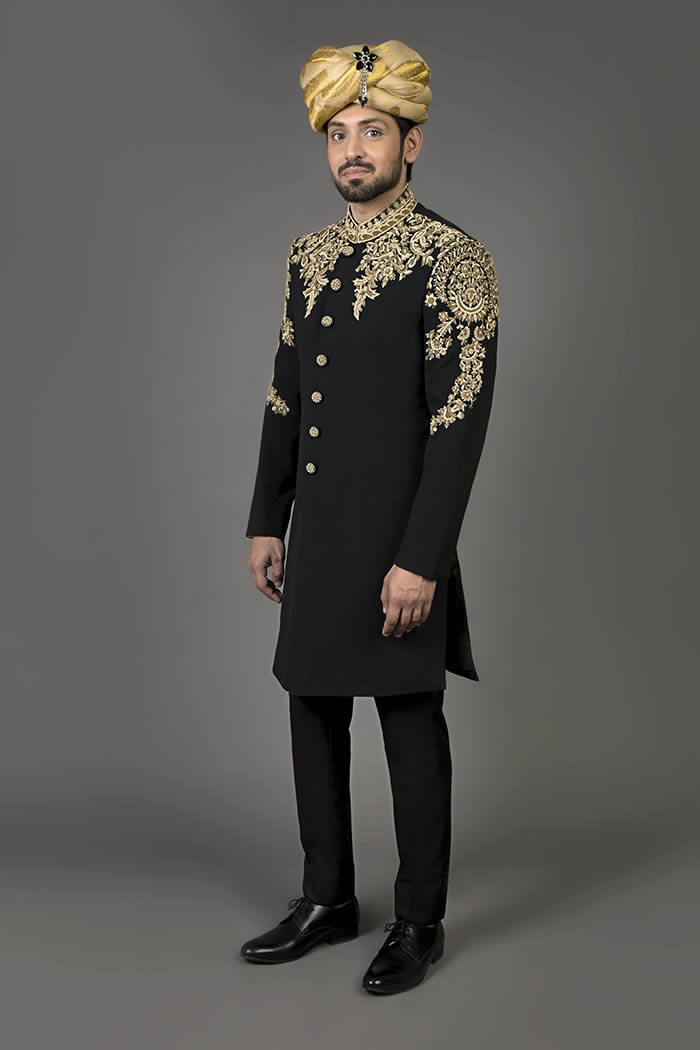 The classic and sleek silhouette of the classic black sherwani made in premium quality Italian Five Star Tropical fabric hand worked in gold Kora & Dabki on the collar and sleeves highlights the luxury of the timeless craft of Shameel Khan. This sherwani which defines heritage and traditions perfectly comes up with seven embroidered Gold buttons along with a Black Tropical inner suit and Rajasthani style Qulla and beautiful Black colored turban brooch.