Levi's Live has become synonymous with energetic crowds, live music, star performances and new acts showcasing their talents. The latest Levi's Live session was exactly that; headline by renowned singer Jimmy Khan and an introductory act by Nimar Zar, a star in the making.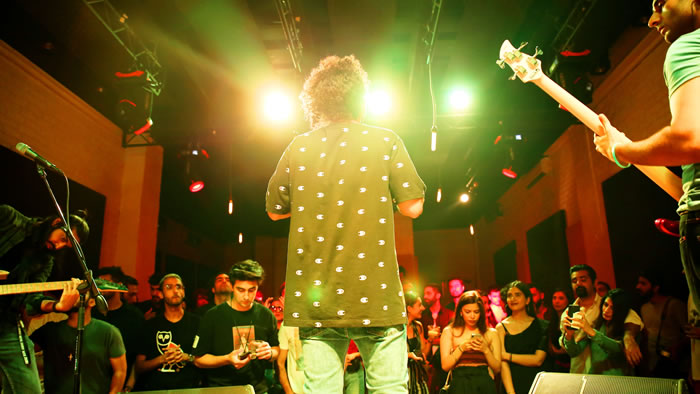 Jimmy Khan performed acoustic versions of his hit singles while Nimar Zar sang originals from his repertoire and covers of renowned artists. Levi's Live pulled in a crowd who sang to the live music turning into a night not to be forgotten. This is what Levi's Live had set out to achieve in 2016 with its first live gig and the latest show was a culmination of that vision.
Levi's has partnered with Farhad Humayun of Riot Studios: the premier space for recording music, films and post production in Lahore, where some of the country's top musicians, music videos and films have been produced over the last decade.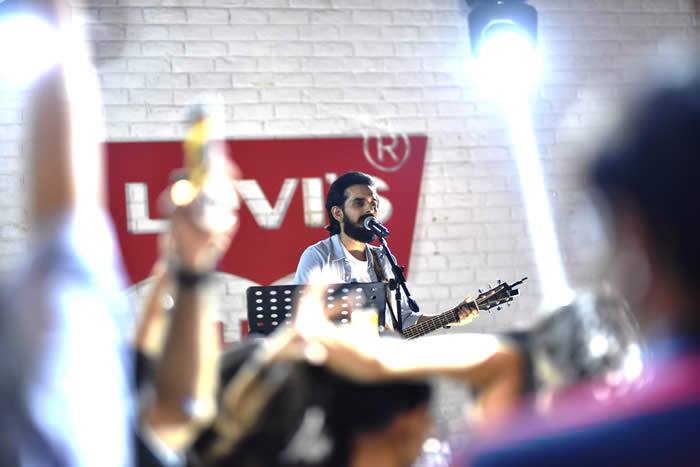 Singer/Songwriter Hassan Jamil Khan, popularly known as Jimmy Khan has carved a niche in urban folk music for himself. He has been nominated for the prestigious Lux Style Awards twice in the categories of Best OST and Song of the Year. His songs have been featured in 'Coke Studio' Season 11's biggest hits album. His latest single Haye Dil Bechara was part the blockbuster film "Parey Hut Love" which also marks his debut as an actor. Nimar Zar studied cinematic arts and technology from California State University and has played multiple small towns gigs in London and California. He has also performed with a number of bands including Madlock in Pakistan and has debut album coming out soon.
On his debut performance at Levi's Live Round 2, singer and songwriter Jimmy Khan said; "It was my first time attending and performing a Levi's Live at Riot studios. A very cool space for musicians and audiences to create madness and magic; Our evening started with a very cool act by Nimar Zar after which I went on to perform most of my originals. Played to a house packed of a very charged crowd. I think we created a bit of a riot in that room!"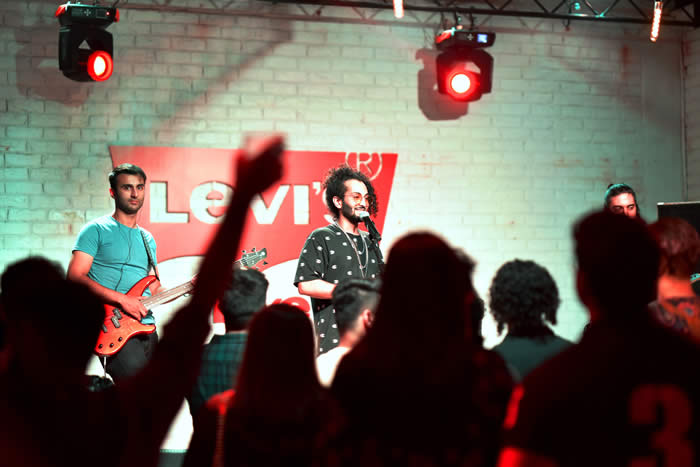 Nimar Zar on his experience of performing at Levi's Live said, "I had a great experience playing for Levis Live. A wonderful crowd and a night to be remembered! I would personally like to thank Farhad Humayun & Uzma Rao for their support. Also none of this would be possible without Mehroze Gillani, Mustafa Tauseef and the support of my friends and family. Love to all "
Speaking on behalf of Levi's Mir Zia Mahmood, Country Director, Levi Strauss Pakistan said, "Over the last couple of years, Levi's has played an integral part in reviving "Live" music and promoting young Artists in Pakistan. I am very excited on Levi's Live Season Two in partnership with "Riot Studios". We had an amazing event on 30th August 2019 which featured live performances of Nimar Zar and Jimmy Khan which received an overwhelming response from the attendees. I wish success to the whole team of Riot Production and artists for a rocking Round Two – Live in Levi's".
On the latest Levi's Live session, Farhad Humayun – vocalist, drummer extraordinaire and part of the band Overload is the producer of the show said, "This is a time of political turmoil, financial crunch and general despair in the most parts of the world, especially in Pakistan. It is heartwarming to see so many people coming to hear live music and to get a sense of community and I am fortunate to give that space to them at Riot Studios on the platform of Levi's Live. Jimmy Khan is a unique talent and had the crowd swinging to all his songs. Nimar Zar has immense potential to be an international superstar and I loved the set he played. I am hosting more Levi's Live sessions and Uzma Rao, CEO of Native Rock, will keep bringing in the wonderful crowds and the coolest artists".
Levi's Live has brought a new lease to life to live music in Pakistan since its launch in 2016; bringing Pakistani artist from different genres who come together and perform on a single platform to live audiences. The vibe and energy of live music in a closed setting is what sets Levi's Live apart from other platforms. It allows for the audiences to interact with the artist, it is an experience which can't be replicated and truly reflects the artist's mastery of his craft over music.
The team behind Levi's Live includes Farhad Humayun of Riot Studios, Uzma Rao of Native Rock who is looking after Public Relations and Management.
Watch this space as we share the latest on Levi's Live.