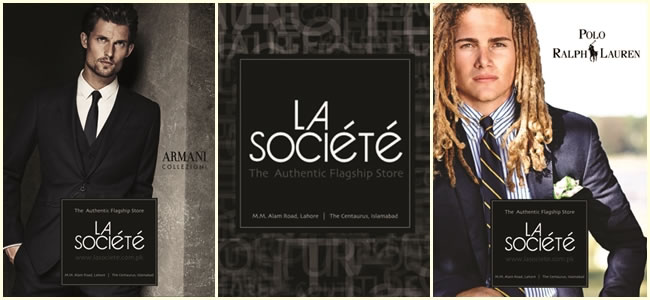 Creating a space that is inviting and visually appealing is a key to attracting customers to retail stores and destination locations. Thanks to our fashion industry that has set itself on the same standards as that of international fashion industry. This, of course, has given tough competition to mediocre and upscale retailers alike to make their products sale-worthy. From offering latest merchandise to creating an environment that is comfortable, outlets have struggled to meet the demands of customers. Retail layout and design is a combination of science and art, which 'La Societe' has accomplished successfully.
Located in the heart of Lahore's fashion hub; MM Alam road, the outlet resides in a single storey Roman inspired building. La Societe is the country's largest independent luxury retail group that specializes in contemporary men's and women's designer wear. With a brand portfolio including Giorgio Armani, Hugo Boss, Canali, Dolce & Gabbana, Roberto Cavalli, Replay, William Hunt, Saville Row and Marc Jacobs, the outlet purchases trend merchandise directly from designers. It is through its interior decor that the outlet is successfully exhibiting each brand's story – distinguished in style. Special attention has been given to details making sure the philosophy of each brand is well presented.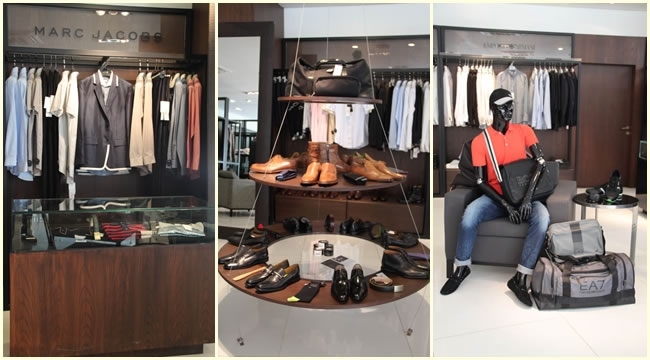 [contentblock id=1 img=adsense.png]
"Having a solid design strategy is essential for successful sale. To give customers a pleasant experience we have carefully designed every single area within the outlet. The threshold area, or better known as the 'decompression zone', is the very first space that customers step into. That is where the customer is in the transition mode. We make sure our customer steps into an outlet that is visually appealing and brings them into a mood that elevates their spirits. Then we let them walk the path, so they stroll down the aisle having a clear view of all the products on display," shares Shahid Luqman, renowned UK based entrepreneur, Real Estate investor and founder of the outlet.
Decked in well-polished marble floor, the threshold area is accentuated by fresco on the ceiling depicting Michelangelo's art in Sistine Chapel. The interior painted in white is complemented with decor and accessories in black making the overall look and feel of the outlet all the more stunning.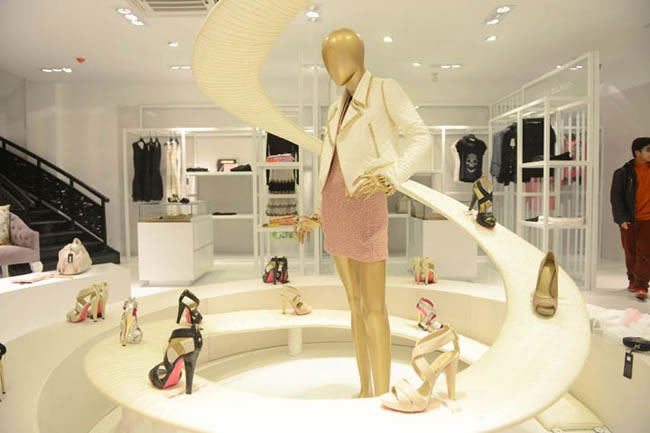 Paying homage to an old saying 'Where the eyes go, feet will follow' the outlet is designed having a circular path, and customers are led through the path to glance at the ensemble and accessories showcased. But, customers are slowed down by what is called 'speed bumps' (presented through marble topped round tables, black velvet chairs and centre pieces) that give them a chance to take a visual break. Merchandise outposts (special display fixtures featuring products) in either ends or in between the aisles encourage impulse purchases while killing the overall monotony of the interior decor.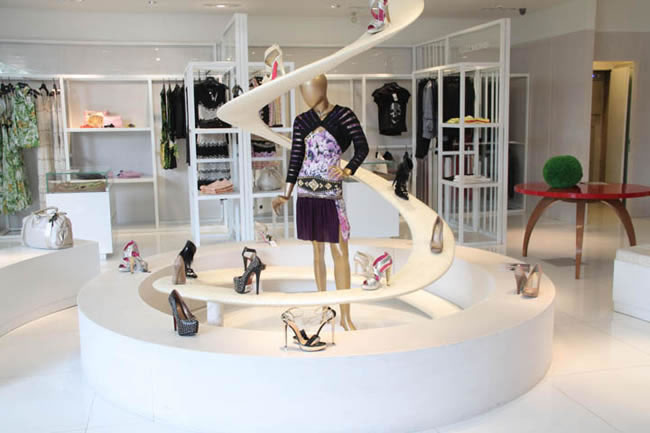 "What makes La Societe an outstanding destination store is that it takes interest in its interior decor. They revamp the entire store every season. There is complete uniformity in their design philosophy. The outlet in Centaurus Mall, Islamabad is revamped accordingly. More than this, unlike other outlets that offer outdated designer brands, they have the latest merchandise and are represented in the same manner of style as abroad," says a regular customer.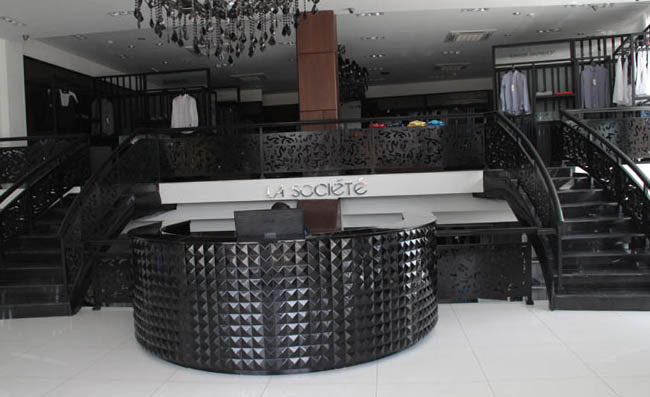 [contentblock id=2 img=adsense.png]
"Having a fashion outlet is not only about selling your product. It's about protecting the brand image and name one is representing. Especially when it's a retail store offering multiple leading brands, one has to ensure the same standards as all other outlets across the globe are following. This is why we re-do our entire design philosophy every season while re-doing our window display literally every eight weeks," informs Shahid Luqman.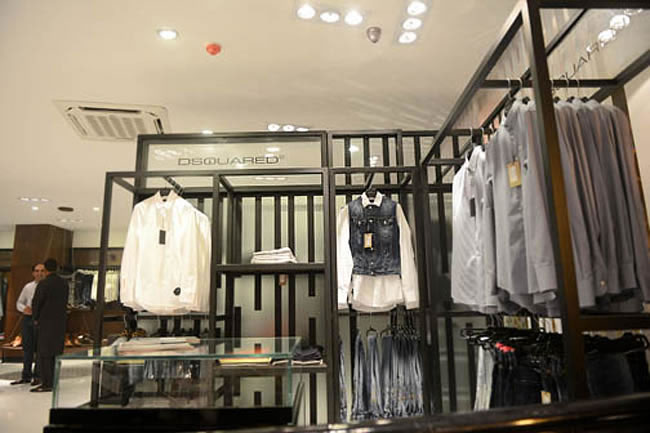 Most outlets get their customers confused when it comes to checking out – especially if the cash counter is placed opposite to the exit path. The cash counter, which is the 'check out' point, should be located at a natural stopping point. Considering this, the outlet ensured their check out post is created and designed as such that it gives free way to its customers coming in and exiting the store.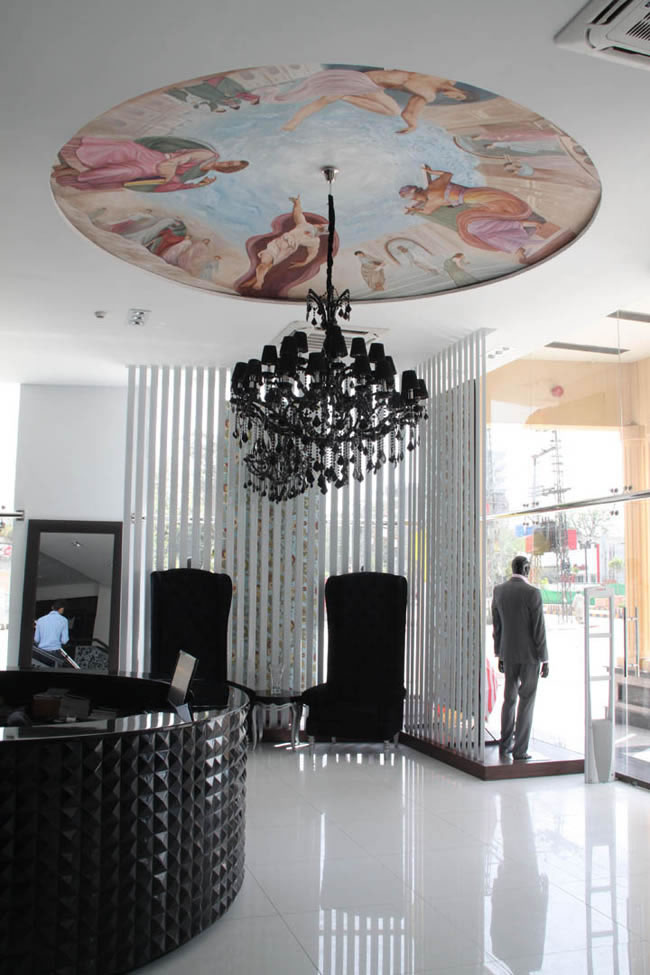 Designing the interior of an outlet is an ongoing process. The management is supposed to be up on its toes all the time; tweaking, adding or subtracting from its interior decor every now and then. From selecting the flooring material to doing the ceiling and wall colour, and playing upbeat music to keeping that fresh scented aura and ambiance alive, La Societe stands out as classique destination location for A-class retail shopping experience.