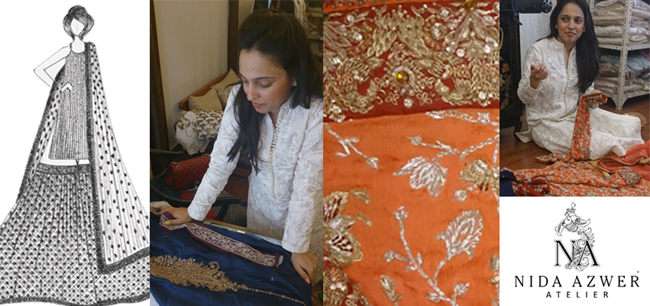 Following the brand's showcase of their acclaimed "Urban Jungle Collection" in Lahore and "The Kothari Parade" at a private show in London, the Nida Azwer Atelier brings to the runway a their bridal collection, "The Kothari Parade II", at the Bridal Couture Week on the 11th of May 2014, in Karachi.
As the collection name suggests, The Kothari Parade II is an extension of the inspiration behind that which she showcased in April in London. Indeed Nida Azwer has drawn inspiration from her love of the sub continental culture and history, working across fabrics such as French Chantilly lace, fine silks, masuri, brocades, nets and cotton nets in a range of hues featuring shades of red, rust, navy blue and turquoise with accents of purple and grey.
Expect varied voluminous outfits paying homage to the elaborate and grand silhouttes of the Mughal Court with embellishments in the designer's signature Miniature embroidery and resham along with zardozi and gota work.  Alongside more traditional cute, the Nida Azwer Atelier will also be introducing "aunchi goth ka ghara" layered panel shirts and lenghas paired with jackets and net duppatas.
Speaking about her collection for Bridal Couture Week, Nida Azwer has said, 'My latest collection pays homage to the royalty and revelry of the bygone Mughal era, allowing us to revive craft, design and silhouettes from that period in history. I have always had a passion for the more classic and vintage design elements infused with traditional crafts worked into contemporary fashion silhouettes all of which is manifest within The Kothari Collection II."