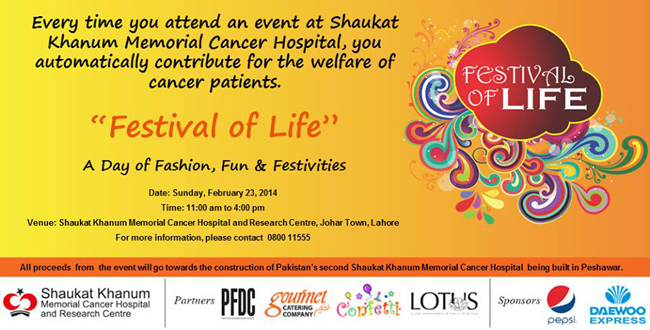 Following the success of the first Festival of Life in March last year, the Friends of Shaukat Khanum in collaboration with Pakistan's fashion and entertainment industry once again step forward to organize the second Festival of Life. An all-day carnival for families that promises to be even bigger than last year, the Festival of Life will be held at the Shaukat Khanum Memorial Cancer Hospital in Lahore on February, 23 2014 from 11 am to 4 pm.
All proceeds raised from the festival will be donated towards the construction of Pakistan's second Shaukat Khanum Memorial Cancer Hospital and Research Centre in Peshawar. Indeed the Festival of Life hopes to raise funds to help complete the construction of the structure of the four floors of the Peshawar hospital within 2014.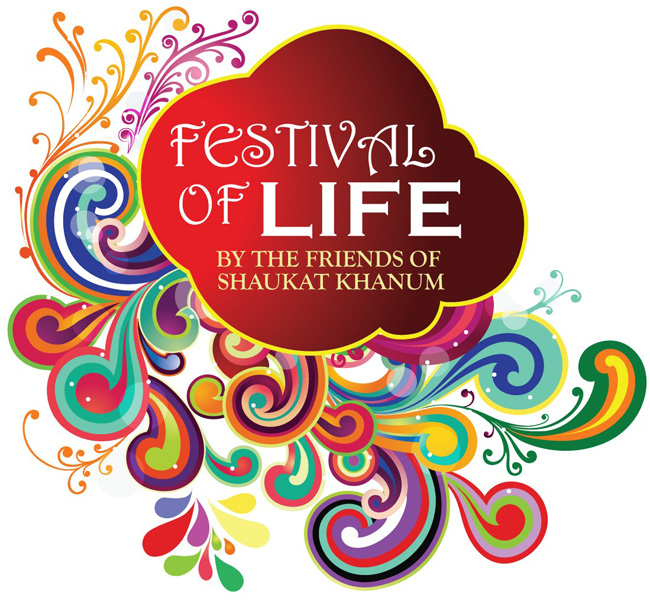 The festival promises to be a day full of fun, fashion, festivities and compassion. An extension on 2013's festival, highlights include an exciting fashion lounge as set up by the prestigious Pakistan Fashion Design Council (PFDC) and Pepsi, with clothes donated from over 60 leading designers and retail brands including Arsalan Iqbal, Élan, HSY, MUSE, Nida Azwer, Sana Salman, Sania Maskatiya, Sublime by Sara, Teena by Hina Butt, The House of Kamiar Rokni and other mainstream fashion labels and brands, where all fashion will be available at up to 70% off its original price! Also expected at the festival is a festive play area for children set up by party planners extraordinaire, Confetti, along with a food court. A raffle will also be held with dozens of prizes to be won!
At the Festival of Life, a number of renowned celebrities are also expected to make appearances in an expression of their solidarity and will also walk hand in hand with cancer patients from Khyber Pakhtunkhwa at in-event celebrity walk.