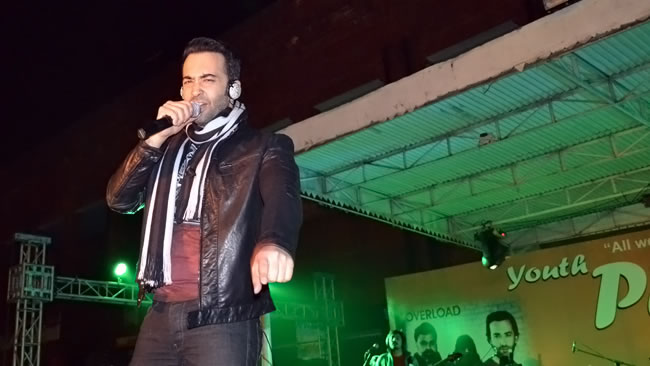 The loudest band of Pakistan showed its softer side this weekend when they performed at St Anthony's school to show their love and support for the minorities of Pakistan. The event, called Peace for Justice, was organized by National Commission for Justice and Peace.
'First of all I'm very pleased to have an activity happening in Lahore because the city has not been having any concerts since a while now. A lot of recent events have been postponed or cancelled. As a result, people don't get many opportunities to enjoy themselves. It's also an important event because of the cause attached to it. It's great that our minorities are finally getting such attention. The event will definitely send out a positive message. Cecil Chaudhry is organizing the event, who's also our band manager and we're very excited to perform at this event' said Overload's lead keyboardist Sheraz Siddiq.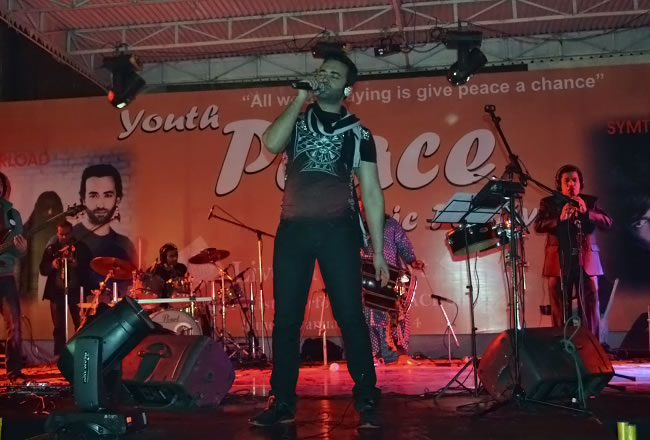 Fans were ecstatic to get to see their favorite rock band perform live and the band didn't let them down even once through the night, as they continued entertaining the crowd with one hit after another. The phenomenal screaming emanating from the crowd that lasted for more than an hour at the show, was definitely something worth experiencing.
Starting their performance with the mellow carol 'Hallelujah', there was no stopping the band after that. They sang a NFAK medley, cover of the classic 'Eye of the tiger', Mahi, the highly requested Nere Aa and then finally Batti. After that Farhad took over drums and did an instrumental performance against ear piercing cheers and noise coming from the crowd.
Addressing the crowd, lead band Farhad Humayun explained how 'the band is made up of members from all over Pakistan but we never make anyone feel like an outsider' as he feels that they are all a group of likeminded people and that's all that counts. After the performance Farhad also introduced the band which comprised of Farhad on lead vocals and drums, Sheraz on keyboards, Farhan on bass, Waqas on lead guitars, Nasir Saieen and Kala Saieen on Dhol, Jaffer Hussan on clarinet and Kami Paul as the new drummer of the band.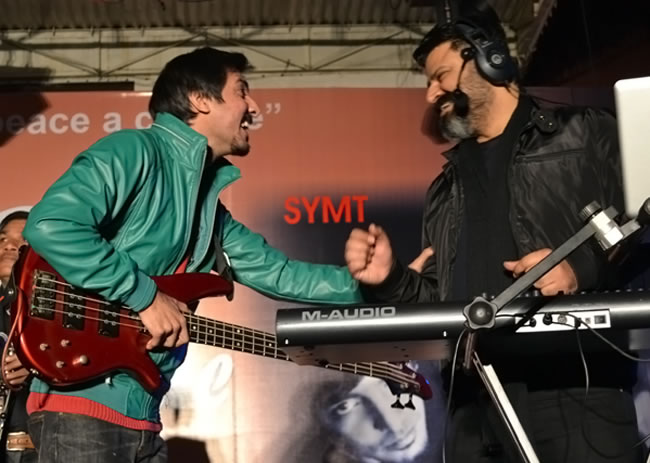 Prior to the event, Overload had also started an online competition, the winners of which got to accompany the band to the concert. The winners were Hamza and Ahmed, also aspiring musicians. 'We are truly amazed; the experience of interacting with the band and being here with them has truly been terrific. We couldn't have been more grateful to the band for this chance' said an excited Ahmed, currently an A Levels student at Aitchison.
Speaking to the media, Farhad said 'Firstly, I don't believe in the word 'minority'. Pakistan is supposed to be a country of likeminded people living together in peace and harmony which is represented by our flag too. Nobody should feel like an outsider or an outcast. I'm happy to be a part of this event, and I really hope that concerts start happening on a regular basis again in Lahore like they used to back in the day because live music is a totally different experience and our public needs more entertainment for sure.'
 It was a great effort put up by NCJP, Cecil Chaudhry and his team and here's hoping Pakistan has many more such events in the future.