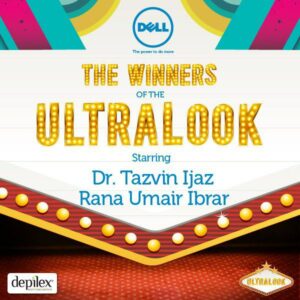 Dell is a computer technology company that has always prided itself on being a globally innovative brand. Recently it launched a campaign, The Ultralook, with local celebrities Farhad Humayun and Rachel Viccaji to endorse their new Ultrabook™ in the Pakistani market. A Facebook competition was held as part of this campaign and the winners were announced online on April 20th, 2013.
On Sunday, 21st April, 2013 Dell celebrated the winners of its Ultrabook™ campaign. The winners; Dr Tazvin Ijaz and Rana Umair Ibrar started the day on the 21st by enjoying a free make-over from Depilex and Depilex – the Lounge. They were then whisked off to Riot Studios for a photo shoot with local celebrities and endorsers of the Dell Ultrabook™ campaign, Farhad Humayun and Rachel Viccaji. For the shoot, Farhad was wearing a House of Brands wardrobe, and his styling / make-up was done by Toni & Guy. Rachel's styling / make-up was done by Depilex. The shoot was visualized and implemented by local, talented photographer, Mobeen Ansari.
Rachel Viccaji, who flew down to Lahore for the activity, commented on the shoot saying: "Meeting the winners of the Dell competition was really nice. They were friendly and accomplished in their own right. The winners and the team involved made the shoot very enjoyable, with jokes abound and new friendships were formed. It is always a great feeling when you connect with people unexpectedly. It's also refreshing to have a photographer like Mobeen whose approach to his work was inspirational. Thank you for the lovely experience Dell!"
Farhad Humayun, pleased by the overall experience, said: "I had a great time meeting the two winners who came from very different backgrounds. They are examples of what progressive Pakistan is about. In showbiz, we meet people who are musicians, designers, actors or producers of some kind. That becomes our world and reality. Meeting total strangers from other professions and spending the day with them was refreshing.
Mobeen is a great photographer who brings out character in his images. Thanks to everyone who made it happen and thanks for the Ultrabook."
"Ultrabooks are the new sensation in the laptop industry and we at Dell are proud to offer our top of the line models to the Pakistan market. The Inspiron and XPS series Ultrabooks both offer a great user experience – each catering to a different target market.
I am equally proud of engaging local celebrities Farhad Humayun and Rachel Viccaji to our Ultrabook campaign – another step in our "first in the market initiatives." elaborated Mr. Shahzad Aslam Khan (Country Manager – Dell Pakistan and Afghanistan).
After the shoot, both celebrities along with the winners enjoyed a delicious dinner at one of Lahore's most popular restaurants, Café Aylanto, where they laughed and talked over a delicious three course meal.
It is for the first time that a computer technology based company has conducted such an exciting activity in Pakistan whereby top celebrities such as Farhad and Rachel have been engaged as part of the campaign to endorse a notebook brand which already plays an important factor in their daily lives, as well as those of many others.