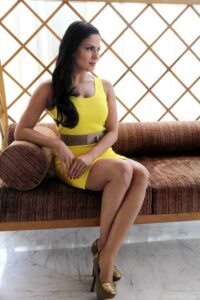 It is very common factor where superstars like Salman Khan, Sahrukh Khan, Katrina Kaif, Priyanka Chopra and Kareena Kapoor get mobbed by fans during their promotional rounds across the country, Bollywood actress Veena Malik was shocked to find herself in a similar response.
The actress was in Jaipur promoting her upcoming movie Zindagi 50:50 at Inox and Dainik Nav Jyoti where she got mobbed and had to cut short her visit as the crowd of over thousands of enthusiastic fans went out of control just to get a glimpse of her and to meet her personally  inspite of very heavy and tight security. The movie is being dubbed in various languages including Tamil, which is stated to release on 24th may.
Veena Malik said, "Jaipur is a very beautiful city and I am very happy that I get a chance to come here and to meet my lovely fans who have always supported me. I am here to promote my movie Zindagi 50:50 where I am playing a very challenging role and I hope that people would love it. I am looking forward for my Bollywood movie "The City That Never Sleeps" which is produced by Satish Reddy and Directed by Haroon Rashid which based on Night Life".
The trailer of movie Zindagi 50:50 has already gone viral with 50 lacs views. She is portraying a character of prostitute in the movie Zindagi 50:50. Veena Malik has been getting a very positive response for her film.