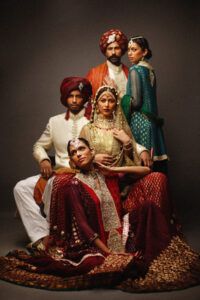 Pakistan Fashion Week LONDON 25th – 27th May 2012:
This season brings new flavors, as Pakistan's top designers get ready to showcase their autumn winter collection at Pakistan Fashion Week in London.
With some of the biggest names in Pakistani fashion already signed up, Riwayat would like to announce that Maria B. and Deepak Parwani will be showing their latest cutting edge creations this May at the Pakistan fashion Week in London.
Graduating from the first batch of The Pakistan School of Fashion Design, Maria always wanted to create a ready to wear revolution in Pakistan. With the aim to change Pakistan's fashion retail market forever, Maria set up the first fashion house of its kind in the country.
Today Maria.B. has 12 stores in Pakistan including Karachi, Lahore and Islamabad, as well as five brands under the umbrella. Maria has done shows in London, Paris, New York, Chicago, New Delhi, Bangkok, Washington D.C., Manchester, Dubai and all across Pakistan. With plans to go into menswear, childrenswear and interior design, Maria.B. is set to become one of the biggest lifestyle brands in Pakistan.
The man responsible for changing the face of Pakistani menswear almost two decades ago, Deepak Parwani is the winner of multiple awards and has exhibited his creations at Milan Fashion Week in the past. Deepak's label has five stores across Pakistan as well as stockists worldwide across London, Dubai, Houston, Washington D.C., Hong Kong, Singapore and Toronto. Deepak is considered to be one of the originators of Islamic Fashion Week in Malaysia, and has been Pakistan's cultural ambassador to China and Malaysia. Deepak's work for poverty alleviation and working for the rural women of Pakistan as well as numerous charities he supports make him an icon in Pakistan and an inspiration to both Pakistanis living home and abroad.
About Riwayat:
Showcasing the best of Pakistani Arts & Culture:
Pakistan fashion has gone global and showcases all that is positive about Pakistan. Our creativity. Our Energy. Our Style. At a time when the world's headlines focus on our conflict, our fashion industry shows that Pakistan has future that can be bright.
Pakistan has been a major culture hab since ancient times, with a cultural history dating back to the Indus Valley civilization (2800 – 1800 BC). Practices and great monuments have been inherited over time through the rulers of the region, from the Persians to the Afghans and the Mughals, each of whom have left their imprint on the current inhabitants of the country. Pakistani society is largely multilingual, multi-ethnic and multicultural, each influenced greatly by many of its surrounding countries. Pakistan was the first region of South Asia to receive the full impact of Islam and has developed a distinct Islamic identity, historically different from areas further west.
Pakistan has always been a major center for the arts, and literature, music, dance and poetry have played a major role in Pakistani life over many centuries. Pakistani music is represented by a wide variety of forms, ranging from rational styles such as Qawalli and Ghazal to more modern forms that fuse traditional Pakistani music with Western music. Pakistanis have evolved a distinct and unique set of culture, traditions and customs in the region, at the heart of which are the arts.
For two decades Adnan Ansari has been central in Pakistan's fashion and media industry. Now based in London, England he is launching a series of events that will raise the profile f Pakistani culture and fashion as never before. Riwayat will showcase only the very best of Pakistani design to a European market.