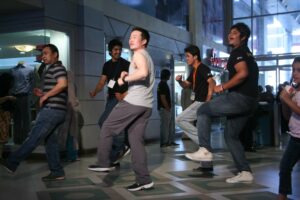 [24 March 2012] Youth-based cellular brand Glow by Warid reveals a new dimension to its popular Dosti Ke Rung Campaign, bringing the concept of Augmented Reality for the first time to Pakistan.
This is part of the nationwide celebration of friendship, whereby the cellular brand offers another way to rejoice with friends in a free spirited, light hearted way.
Augmented Reality itself is a concept involving computer-generated imagery in live video streams where a person interacts with the objects on screen, giving the perception of being part of that reality. This is a virtual world setup where friends stand in a blank space; this is then transposed to appear as if the group of friends is standing in as part of music and dance video!
These special Glow setups are being taken on-ground live with customised activity areas in select colleges, universities, shopping and entertainment venues across Lahore, Karachi and Islamabad.
Director Marketing Sadaf Zarrar said, "Our Dosti Ke Rung Campaign is designed especially for the youth of the country. By bringing in the concept of Augmented Reality our aim is to give an exciting and innovative new avenue for friends to celebrate together. We are proud to pioneer this type of virtual reality in Pakistan, on this scale."
Initiated in February 2012, Glow's Dosti Ke Rung Campaign launched with a music video release last month. Glow also introduced the lowest Friends & Family call rates across all networks at 61 paisas/30 seconds, exciting SMS bundles and unlimited Mobile Internet tariff, making it easier for the youth to keep in touch with their friends at all times.