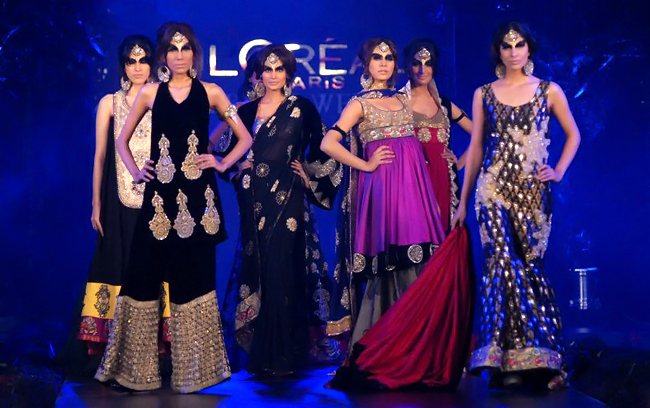 [December 22, 2011]: L'Oréal Paris, the world's leading beauty brand, and the pioneering Pakistan Fashion Design Council [PFDC] presented the fourth and final day of the PFDC L'Oréal Paris Bridal Week – a platform that endeavoured to define and present contemporary and traditional Pakistani Bridal fashion, jewellery and make-up trends, which together created the 'look' for the Bridal Season 2012.
The fourth day of the PFDC L'Oréal Paris Bridal Week included three fashion shows and one solo jewellery show. Bridal fashion showcases were by Karma, Nida Azwer and Umar Sayeed and the jewellery show was by Damas. The day was attended by celebrities, media, the fashion fraternity and buyers/stockists such as the Manchester based Imani Studio and the Pakistani based Ensemble.
Each day of PFDC L'Oréal Paris Bridal Week was styled by a different creative team and to this end models on Day 4 were styled by Ather Shahzad with men's styling by Khawar Riaz for all shows except for Umar Sayeed's which was styled entirely by Ather Shahzad.
The PFDC L'Oréal Paris Bridal Week has been produced by Catwalk Productions, with event coordination by R-Team, set design by Hamza Tarar, official photography by DragonFly and public relations by Lotus. The Black Carpet for PFDC L'Oréal Paris Bridal Week was sponsored by Damas.

Fashion Show: Karma
Entitled 'Enchanted', Karma presented a collection which derived its inspiration from dark fairy tales, their feared villainesses and beloved heroines. The mood was dark and the colour palette was an exploration of velvet noir, evil jewels to candy wrapper pops and an amalgamation of both. The collection featured trousseau to bridal wardrobe and mixed up the silhouettes to make the age-old contemporary, adventurous and strong. Karma remains for the strong fearless woman who is always the adored star of the show but wears her dark twisted side with pride. It was an ode to the darkly beautiful and the layered luxurious.
Founded in 2000, Karma has completed a definitive decade in fashion. The journey began with the aim of capturing its share in Pakistan's growing couture industry. Driven by principles of originality, glamour and professionalism, the team at Karma embraced its mission giving first priority to satisfying its clientele. Karma consists of three brands, Karma Pink (Prêt), Karma Red (Couture) and Karma Princess (Girls Age 1-12).
Today, Karma is known to deliver style, taste and elegance and in doing so, it is revamping the image of the eastern girl. With Maheen Kardar Ali as the fashion force behind the label and Saad Ali as CEO, Karma has not only won the Lux Style Award three times which includes the Best Womenswear and Couture in Karachi and Dubai and Best Prêt Wear for Karma Pink in Malaysia but as a company, revolutionised its sector as the market leader in providing a high fashion retail experience.