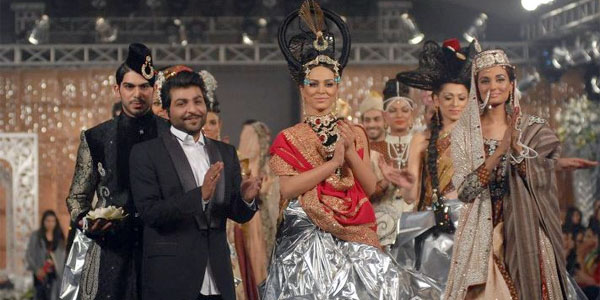 [December 21, 2011]: L'Oréal Paris, the world's leading beauty brand, and the pioneering Pakistan Fashion Design Council [PFDC] presented day 3 of the PFDC L'Oréal Paris Bridal Week – a platform that endeavours to define and present contemporary and traditional Pakistani Bridal fashion, jewellery and make-up trends, which together create the 'look' for the Bridal Season 2012.
The third day of the PFDC L'Oréal Paris Bridal Week was dedicated to fashion designers showing their bridal collections with solo shows by Ali Xeeshan, Rouge, Sara Rohale Asghar and Asifa & Nabeel. It was attended by celebrities, media as well as the fashion fraternity. Each day of PFDC L'Oréal Paris Bridal Week is being styled by a different creative team and to this end models on Day 3 were styled by Toni&Guy led by Shammal Qureshi with men's styling by Khawar Riaz.
The PFDC L'Oréal Paris Bridal Week is being produced by Catwalk Productions, with event coordination by R-Team, set design by Hamza Tarar, official photography by DragonFly and public relations by Lotus. The Black Carpet for PFDC L'Oréal Paris Bridal Week is sponsored by Damas.
Fashion Show: Ali Xeeshan
Day 3 of the PFDC L'Oréal Paris Bridal Week was opened by Crimson by Ali Xeeshan with a collection titled 'Pahalgam'. Named after the breath-taking city in the valley of Kashmir, the Pahalgam collection was the designers' interpretation of what he envisions the city to look like and the magnificence it captures. His collection represented brides adorned in plain fabrics of different kinds; ornamentation and decoration-free clothes that represented a vivid play of colour.
With Pahalgam, Ali looked to prove that style and beauty originate from within a person's own character rather than the amount of embellishment on a piece of clothing. Designed especially for today's chic bride who wants to pull off an unconventional ensemble, Ali Xeeshan's Pahalgam bridal showcase highlighted that the splendour brides relish, will only come from within.
Ali Xeeshan is a graduate of the Pakistan Institute of Fashion Design (PIFD) and holds an honours degree in Couture and an award for the Best Collection at the institute. As a designer, he takes inspiration from within the Pakistani culture. Having diversified into a diffusion prêt-a-porter line, a formal collection for men and a complete range of accessories as part of Crimson by Ali Xeeshan, Ali Xeeshan is predominantly a couturier focusing on formal and bridal wear with a signature style of using unusual shades of colour and high end luxurious fabrics merged with the unconventional embellishment techniques in both traditional and contemporary cuts.