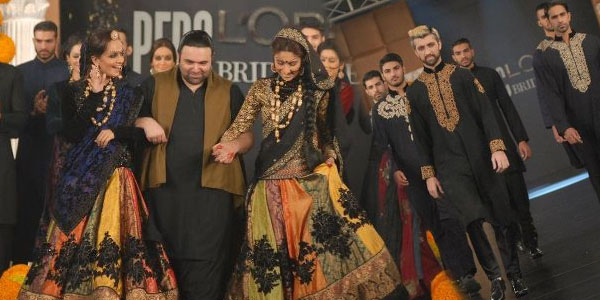 [December 20, 2011]: The PFDC L'Oréal Paris Bridal Week is being produced by Catwalk Productions, with event coordination by R-Team, set design by Hamza Tarar, official photography by DragonFly and public relations by Lotus. The Black Carpet for PFDC L'Oréal Paris Bridal Week is sponsored by Damas.
Day 2 of the PFDC L'Oréal Paris Bridal Week was opened by Fahad Hussayn with his collection entitled 'Raat Raakh' which was inspired by an epic tale of a night traveller, a bride, who has lost love and is seeking another. Through this collection, Fahad Hussayn endeavoured to materialise the story of her journey and of all those who come between this world and her's with his signature edgy grandeur and intricate couture detailing.
A tribute to the beauty of the night with multi-cultural influences, Fahad Hussayn introduced his interpretations of the Christian bride, a Parsi bride, the friends who surround the bride, a Nawab, a Muslim bride and her family. Using a variety of fabrics for 'Raat Raakh' such as cotton, cotton nets, pure Mughal jamavar, chiffon, velvet, suede, faux fur and silks with sleek cuts and straight lines with volume and drapes, the embellishments used were resham, zardozi, crystal work and appliqué. The collection was predominantly black, but also highlighted shades of night fall.
Speaking about Bridal Week Fahad Hussayn said, "PFDC L'Oréal Paris Bridal Week is a really exciting blend. PFDC has proven to be consistent and is striving towards excellence, the shows are organised in a very industrial manner, taking fashion and the business of fashion to where it belongs."
Born in Faisalabad, Fahad Hussayn graduated from Beaconhouse National University in Lahore with a degree in Textile Design. Adept in bridal couture clothing, formal and evening wear, Hussayn's designs celebrate tradition and intricacy meshed with modern sensibilities. In 2007, he opened his atelier and is now successfully stocking his collections in stores across the country and internationally, in India and Dubai.
Fahad Hussayn has been nominated twice at the Lux Style Awards in 2008 and in 2009 for Emerging Talent and Menswear Designer categories, respectively. Indeed, Fahad Hussayn's couture looks to provide its clients with high end fashion and trousseau clothing; pure grandeur blended with the right amount of edge being their key design philosophy.