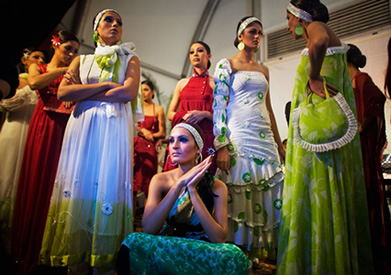 Pakistan Fashion Industry has seen a definite increase in the trend of fashion in Pakistan. One of the many reasons behind this fashion boom was the opening of many fashion schools offering bachelor's degree in fashion design and related fields. In the past one decade many fashion schools have opened up, a few of them are very old but most of them are not as old. With the trend of these fashion schools it gifted the Pakistan Fashion Industry with lots of new talented designers.
Schools and Colleges such as BNU, Iqra University, Indus Valley, NCA and many others were behind the successful Pakistan Fashion Industry of today. PFDC has been the pioneer in these fashion schools and has contributed tremendously to the development of our fashion industry. They went on various international platforms to get our designers recognized. Today Pakistan Fashion Industry is known worldwide. Our designers have opened up outlets around the world and are a part of various fashion weeks every now and then. The concept of fashion week also evolved once our industry had a bunch of talented designers. Even today PFDC works like no other school they constantly keep their students engaged in many activities such as fashion weeks. They are encouraged to work with many renowned designers in order to learn from them.
These fashion schools also gave rise to many other fields which are correlated such as textile design and jewelry design. Along with many fashion designers the industry has also witnessed a large chunk of jewelry designers and textile designers.
Many makeup artists also came out and now we have a bunch of excellent stylists. Fashion is something which comes from within but the job of these fashion schools is to polish your skills and talent. Pakistan Fashion schools are doing a great job in order to bring out new talent and platforms for them.