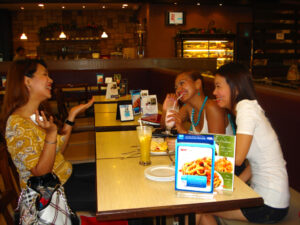 Lahore is a city rich in culture and heritage but at the same time it is an extremely modern city which makes it even more appealing. There are so many places to visit and eat in Lahore. Lahore's people are welcoming and the places in Lahore are to die for. There are many places to hangout in Lahore some are in doors and some are outdoors.
Coocko's Den is a place located in the old city of Lahore which is right opposite to the famous Badshahi Mosque. The location defines the rich culture and heritage of Lahore and also the Mughal era. This restaurant is located in the heart of the old city and gives a view of Badshahi Mosque, Wazir Khan Mosque and Lahore Fort. The food is desi and includes the specialties of the area such as Tuk-a-Tuk. The ambiance of the place is unique and extremely artistic; it shows many religions and cultures. It can be a great hangout in winters.
English tea House is another hangout which is relatively knew and it is a part of a new Thai restaurant called Yumm which is located in Gulberg. But the décor and theme of this tea house is not Thai. It is situated in the back garden of Yumm. English tea House is an oriental place, it has a bakery, hi- tea, breakfast and dinner. English tea house is famous for its high-tea which comes under three tiers of delicious and mouthwatering confectionaries along with a pot of coffee and tea. The dinner is also great. There is a place to sit in doors which is decorated in the oriental English style and there is also an area outside with wooden floors, wooden chairs and plants all around.
Hot Spot might sound old now but it is still one of the best places for ice-cream and deserts. Not only is that it a common place for youngsters to hangout. There are two branches of Hot Spot in Lahore; one is in Defence whereas the other is in Qaddafi Stadium. The décor of the place is very colorful and interesting with witty posters, scary things, movies. The Qaddafi Stadium branch is bigger and better. It has a book store upstairs which simply adds to it. There are wooden benches outside to sit in winters and enjoy. These are one of the best hangout places in Lahore, especially in winters.