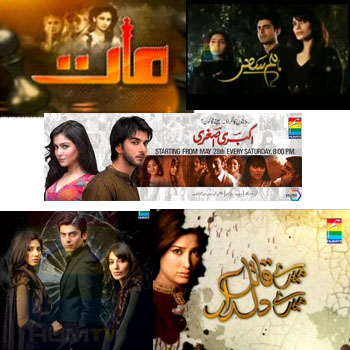 Dramas of Pakistan have always remained captivating. Latest Pakistani dramas are by no means lagging behind as they are keeping up the tradition.Pakistani dramas 2011 focus the major dilemmas and issues of our social system.
The peculiarity of latest Pakistani dramas is their intricate plots which don't allow the viewer to switch the channel and wait for the coming ups. Topped up with the plot perfection of Pakistani dramas 2011 comes the variety of unique and virgin topics.
Fashion Central spotlights the major highlights and a bird's eye view of latest Pakistani dramas.
A strong drama series containing entirely unique and new stories every week. Sania Saeed and Nauman Ijaz are seen acting with the best ever chemistry on screen. Excellent cast with fabulous new concepts. The distinctive point of "Aao Kahani Buntay Hain" is the variety of get ups Sania and Nauman are seen wearing. This drama will always be known as the worth mentioning drama in the history of dramas of Pakistan.
Pakistani dramas 2011 have a novelty in their titles, story lines and ending notes. In this context we can't help focusing Maat.
Maat:
Maat is a popular title amongst the latest Pakistani dramas. Casting Amina Sheikh, Adnan Siddiqui and Saba Qamar as major artists. This one is among those dramas of Pakistan which leave an everlasting impact. Saba Qamar is seen playing the character of a girl who nurtures subtle jealousies and other negative emotions. Class distinction and its effects in the society are the issues touched in the story. Maat will remain a prominent name in the list of Pakistani dramas 2011.
Humsafar: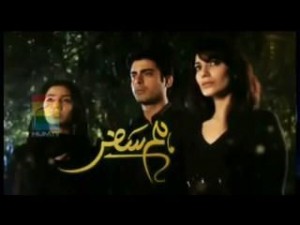 Love triangle but with lots and lots of twists, presenting Humaima and Mahira together again but this time with Fawad. This is the drama title which can be placed at the top of the list of latest Pakistani dramas.
Akbari Asghari:
Humaima and Sanam Baloch are seen together in this modern Mirat-ul-Uroos story concept. This drama serial brings an amalgamation of village life and problems faced by Pakistani overseas. Such latest dramas of Pakistan which have a light comedy in them are very much appreciated these days.
Meray Qaatil Meray Dildaar:
This is a new play among latest Pakistani dramas. The main distinguishing impact of the story line is in the suspense highly built in the plot.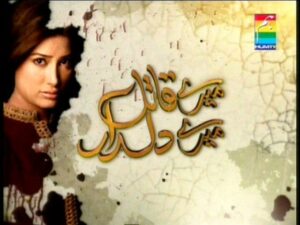 Among other Pakistani dramas 2011 are "Mohabbat Rooth Jaay To", "Kitni Girhain Baaqi Hain", "Zeenat Bint-e-Sakina", "Kaash main Teri Beti na Hoti" and many other latest Pakistani dramas which are making their mark on screen.
Dramas of Pakistan are one and only of their kind from the last five decades. Latest Pakistani dramas, in the same connection, are maintaining their individuality even today.