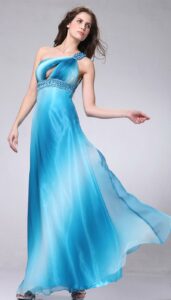 No matter what your style statement is, if you are a Pakistan woman you definitely own an entire collection of chiffon formal dresses. Although the fashion which incorporates the cuts and the silhouettes changes but the material used for formal dresses has always been the same in Pakistan. No matter what time of the year it is, every lady wear chiffon dresses for weddings, evening functions and events. Pakistan has adopted the tradition of wearing all these royal material clothing from the Mughal customs and traditions. The subcontinent had a rich culture during the Mughal emperors rule and this culture was adopted by the people of the subcontinent. The traditional wear on weddings and other formal functions still has the same custom of wearing the royal material.
With the latest trend and the eastern traditional fashion there is now an addition of chiffon trend, every dress may it be formal or casual has a touch of chiffon in them. Sleeves of most of the dresses are stitched with chiffon material.  The versatility of the recent summer collection of lawn prints and designs by the designers had chiffon sleeves with almost every dress. Since Pakistani dresses can be customised and tailored according to individual's personal choice and orders therefore it is completely possible to get your very own chiffon sleeve dress.The long shirt trend in comparison to the long maxi dresses with our version of skinny jeans called the churidaar's look amazing if they are given a final look with the long churidaar chiffon sleeves. The chiffon sleeves give the entire outfit a breathtaking decent look. During the summer the ladies enjoyed the chiffon trends and the chiffon sleeves not only looked amazing rather the light material made the women beat the heat with a decent way. With this trend the women didn't feel the heat and they looked stunning with their very own traditional look. Chiffon sleeve trends in Pakistan prevailed almost since forever but now it has gone to its extremes.
When a traditional woman want to follow the trends with the respect for the tradition and customs they definitely look amazing. The royal time Mughal women used to wear long chiffon churidaar sleeves which looked stunning and now with the latest chiffon sleeves and chiffon dresses the Pakistani women have adopted the royal fashion and tradition.
Every lady enjoys the royalty of the latest fashion and trends. The increased demand for the chiffon material has made it less expensive and readily available in every colour in the market.