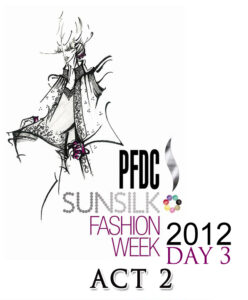 Act 2 was opened by Khaadi Khaas' S/S 2012 prêt-à-porter collection, "The City Within". The collection took inspiration from the city of Karachi, and showed varying themes in print, pleated fabric and irregular hemlines. Graphic compositions of asymmetry were juxtaposed with cultural affiliations to challenge the nature of the fabric and bring out the textured complexity intrinsic to today's life and style.
Khaadi Khaas is an extension of retail giant Khaadi, synonymous with hand-woven fabric. Khaadi Khaas was launched in 2008 with a vision to add exclusivity to the Khaadi brand. The result is a formal prêt-a-porter brand where exclusivity meets tradition which embodies style, elegance and individuality from classic, sleek lines to trendy splashes of colour.
With textile design graduate and entrepreneur Shamoon Sultan as the force behind Khaadi, what started as a small venture with a few weavers has now grown ten-fold. Today, not only does Khaadi have its own production facility with a team of experienced weavers, it also has many other skilled artisans creating a wide array of products across 6 major cities in Pakistan with 14 local outlets and 5 international outlets in Dubai, UAE. Further testaments to its success are six Lux Style Awards (LSA).
The brand recently won two awards in 2011 with Khaadi Khaas winning its first LSA award in 'Achievement in Fashion Design-Prêt'. Other awards include 'Best Men's Wear' (2002, 2005) and 'Best Retail Store' (2006, 2007 and 2011). Khaadi was also shortlisted as one of the 10 contestants for the International Young Fashion Entrepreneur (IYFE) Award in 2008 and also included in the Shell Hall of Fame worldwide. The label also showcased at the Prêt-à-Porter Feminin in Paris this September.
The second show of Act 2 was staged by Hammad-Ur-Rehman who presented his debut womenswear collection at PFDC Sunsilk Fashion Week entitled "Zarrkhanam". His collection was inspired  by his childhood fondness for his favourite clothing, the Pashtun vest and its associated motifs. Through this collection the designer aimed to showcase the age old craft by amalgamating it with military elements to create a bold and regal collection. A wide array of fabrics such as Boski linen, cotton, organza, tissue and crinkled sheer fabric were used with cuts that embodied the transition from structure to flow from high waist pants to fitted chooridars, to the controlled flow of gowns to trailing sarees. The embellishments included gold dori work, tilla and cold gold appliques in a quilted form.
Hammad-Ur-Rehman's is a graduate of the Pakistan Institute of Fashion Design and secured the first position in the batch of 2010 for his work while also securing a coveted second position for his graduation collection in the same year. Having worked in the fashion industry with a prêt a porter label and a couture house first, Hammad launched his independent and eponymous label Hammad-Ur-Rehman to be true to his individual style philosophy; to bring forth the application of tactile textures through the usage of unconventional materials for embellishments and enhancing key design elements.
Day 3 closed with Ammar Belal's finale collection entitled "Disco Inferno". The collection drew inspiration from the disco fever of the 1970's, specifically referencing John Travolta in his iconic 'Saturday Night Fever' suit and his signature 'strut' outfit, which mark the sharp tailoring techniques applied to the androgynous part of this collection. Diane Keaton in her groundbreaking look for 'Annie Hall' served as a portrait of the ideal Ammar Belal woman,  not afraid to wear the pants in any relationship. The collection included 15 different prints; polka dots, gradient stripes, graphic florals, and paisleys paired together in 5 colour variations marking the explosion of colour that was so prevalent during the days at Studio 54. 'Swirl' paneling was used throughout the collection to join transparent chiffons with opaque silks which gave a variation in textures while maintaining the fluidity of the outfits. The collection also marked a major shift away from the primary silhouette from last year's King of Pop collection as it promoted flowy, high waisted, flared leg pants along with slouchy, bohemian tunics.
Ammar Belal started his career in 2003 with his streetwear brand A.B.C.D and later his internationally acclaimed couture jeans label AS Jeans. His progressive approach to showcasing fashion through music videos and films has earned him various awards, including Best Emerging Designer (Lux 2005), Best Menswear Designer (Indus 2006), Best Prêt Designer (Sunday 2008) and Best English Song (MTV/Indus 2006). The Ammar Belal signature label itself was launched in the summer of 2007 and prides itself on being the first luxury brand from Pakistan that adheres to the highest international standards of quality. It is the only Pakistani fashion house that outsources their manufacturing to Europe and is involved only at the design and marketing stages of its products. The Ammar Belal label has 2 outlets in Lahore and is stocked in boutique stores in Karachi, Islamabad, and Dubai.
The PFDC Sunsilk Fashion Week is being produced by Catwalk Productions and styled by the creative team at Sabs The Salon and Khawar Riaz with Event Coordination by the R Team and Business Consultancy by The Little Black Book, Technical Direction by Asim Naeem and Public Relations by Lotus.