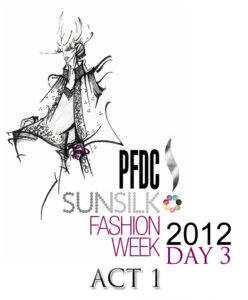 October 22 2011: The PFDC Sunsilk Fashion Week reached its third day, showcasing an eclectic mix of fashion by more seasoned designers and debutants on the ramp. In attendance were media, celebrities and business delegates of fashion. Day 3 was structured into 2 acts in which a total of 6 designers showcased their prêt porter collections.
PFDC Sunsilk Fashion Week 2012 Day 3 – Act 1:
The Day opened with Adnan Pardesy's menswear and womenswear collection entitled "Coquetry" which took inspiration from the muslin fabric, perhaps the purest and simplest fabric and indeed the staple fabric of the Indus Valley Civilization 7000 years ago. From being used by ancient Greeks and Romans for robes, to swaddling babies in Egypt to Marie Antoinette's scandalous portrait in a muslin gown to being a cloth of the masses in both Medieval Europe and the Sub-Continent, Muslin is known to protect its wearers from both heat and the cold. Indeed it is this history and its inherent qualities of unique smoothness and delicacy that inspired Adnan Pardesy to treat this fabric with couture techniques of construction, texturing and dyeing.
Talking about his inspiration, Pardesy said "The word coquetry signifies a coy flirtation and that is precisely what this collection is: a dalliance with muslin"
With an acclaimed signature minimalist design ethos, Adnan Pardesy launched his label in 2007 with a vision to create a fashion that is edgy, sharp and modern. A graduate of fashion design from the Asian Institute of Fashion Design (AIFD) in Karachi, Pardesy was also nominated as one of Pakistan's best emerging talents at the 2009 Lux Style Awards. Adnan Pardesy has shown at Singapore and at both Fashion Pakistan Week 1 and 2. His prêt label A.PARallel, was also exhibited at Ogaan Delhi, India in 2010. Adnan showcased his "Opine" collection at the PFDC Sunsilk Fashion Week in March 2011 and most recently showcased his collection at the prestigious Prêt-à-Porter Feminin in Paris in September 2011.
The next show was PIFD student Batur with his first ever collection, "Entrapment", designed to capture both creativity and wearability for Pakistani women. "Entrapment" strived to represent both softness and edginess with the use of fabrics such as cotton, a variety of silk, organza, chiffon, lace and georgette. Silhouettes were an essential focus of Batur's collection, inspired largely by the grace of women's natural curves which he experimented with by flaring around with cinched waists, giving edge to the shoulders, experimenting with interesting collars and highlighting the possible front and back differences in silhouettes The couture inspired embellishments in some pieces had layered cut-work embroideries over lace and crystal kissed surfaces. With this ready-to-wear collection, Batur aimed to explore how after its birth, a pure human being is infected by societal corruption created by its fellow beings. On his association with the PFDC Sunsilk Fashion Week Batur said "I personally feel that the Pakistan Fashion Design Council started as a seed and is now blossoming into this huge tree of fashion…I am very honoured for being selected by the PFDC to showcase my work."
A graduate from the Pakistan Institute of Fashion & Design, Batur's collection showcase at PIFD Graduations Fashion Show 2011 received much acclaim. Marking his professional fashion designing career via the PFDC Sunsilk Fashion Week platform, the 'Batur' label aims to produce high-end tailored and chic clothing line catering to women around the world with further plans to start a menswear division soon.
Closing Act 1 for the Day 3 was Yahsir Waheed who showcased his menswear prêt-à-porter collection entitled "Back to Life" at the fourth PFDC Sunsilk Fashion Week. Yahsir's collection drew inspiration from the era of the Indus Valley Civilization. Indeed the driving force behind Yahsir's collection was the designers' quest to understand the great Indus Valley civilization and what it reflected. This collection represented a personal journey for the designer grounded in his belief that his roots come from this civilization; thus the collection was his personal understanding, feeling and celebration for this great and forgotten civilization.
For "Back to Life" Yahsir Waheed based his silhouette in loose tapered pants with tailored double breast jackets with a more casual baggy look for the day wear. Traditional fabrics such as cotton, linen, ajrak with natural dyes and hand woven fabric were used.  The designer also created knitwear with special paper yarn for this collection.
Yahsir Waheed started his career as a knitwear designer at a textile company, after completing his studies in textile design from the renowned National College of Arts in Lahore and two years specializing in knitwear design from the UK.  In 1992 he started a label "Ai No Corrida", which was a first of its kind, trendy label for the urban youth. Yahsir emphasised the need of quality fashion education in Pakistan and to this end, in 1994 when the Government started the Pakistan School of Fashion Design, Yahsir joined the school as a faculty member.
The eponymous Yahsir Waheed label was launched in 1999 by Brimful Designs, a Lahore based multi-faceted design studio that delves into commercial applications related to design aesthetics. It forayed into creative and commercial successes in the area of fashion textiles with its brand 'Yahsir Waheed Lawn' in 1999, and pioneered a new direction for designer fabrics. It was the first designer lawn label which was designed, manufactured and marketed exclusively by a design house. Yashir Waheed also participated in the debut PFDC Sunsilk Fashion Week which was held in February 2010 in Lahore and the third PFDC Sunsilk Fashion Week also held recently in Lahore.