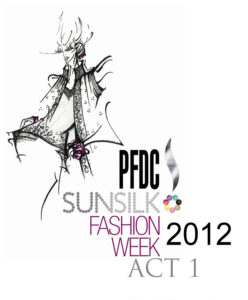 October 20 2011 saw the start of the  fourth installment of PFDC Sunsilk Fashion Week in Pakistan.  Indeed this time, the Pakistan Fashion Design Council and Sunsilk took their week of fashion further to a bigger business platform teaming up with Expo Pakistan, in collaboration with the TDAP whereby PFDC Sunsilk Fashion week is being held in parallel to the trade event. Expo Pakistan is itself organised to explore trade avenues for Pakistan and endeavours to serve as a thoroughfare to the commercial and cultural diversity of Pakistani products and services in the hope to further promote export. Thus the Pakistan Fashion Design Council's association with TDAP for Expo Pakistan looks to further help institutionalise and formalise the Pakistani fashion industry specifically, guiding it towards the processes necessary to become a part of Pakistan's exports globally.
Day 1 of PFDC Sunsilk Fashion Week was structured into 2 acts, which featured 3 ramp shows each with 5 distinct designers and a show by the students of the PIFD.
PFDC Sunsilk Fashion Week Day 1 – Act 1:
Day 1 was attended by leading media and fashion personalities, journalists and buyers who had flown in to attend Expo Pakistan.
 Act 1 of PFDC Sunsilk Fashion Week 2010 was opened by Maria B. and her womenswear prêt-à-porter collection for PFDC Sunsilk Fahion Week entitled "Neo Natives". The designer drew her inspiration from ancient world cultures from Aztec to Persia to fuse a global identity for the women of today. Through this collection the designer looked to project a world that is full of love, acceptance and respect for each other's cultures and identities. Indeed "Neo Natives" speak for the urban women of today, world travellers confident in their identities and capabilities. Talking about her brand and collection the designer said "It is Internationally relevant and affordable fashion for the modern Pakistani woman". Renowned television host Shaista Wahidi and designers Yousaf Bashir Qureshi and Rizwanullah walked the ramp for the designer.
Maria B. is the largest manufacturer and retailer of women's fashion in Pakistan. Her eponymous brand was launched with a vision to revolutionise women's retail in the country and to create Pakistan's first women's fashion brand after her graduation from the prestigious Pakistan School of Fashion Design in 1998.  Today, Maria B. has 11 outlets across the country and 5 brands under the label including: Maria.B cottons, Mgirl, Maria B. Evening, Maria B. Lawn and Maria B. Brides. In 1997 Maria won an international fashion competition held in Belgium by the name of "Les Etoiles de la Mode". Here she was also named as one of the three upcoming designers in the world. Maria B. has always worked on an export oriented strategy, for which purpose her product lines have been displayed at fashion events across the world including in Chicago, U.S.A. (2001), Paris, France (Prêt-à-porter, 2001), New York, U.S.A. (2002), Bangkok, Thailand (Bangkok International Fashion Fair, 2002), Birmingham, U.K (South Asian Fashion Mela, 2002), Los Angeles, U.S.A. (2003), Washington D.C., U.S.A (2004), and Manchester, U.K (Asian Brides Show, 2004) Los Angeles 2011. Maria B. is currently available in Lahore, Karachi, Islamabad, Faisalabad, Peshawar,Oslo, New Delhi, Dubai and Manchester. Maria B.  showcased her collection for the third time at the prestigious PFDC Sunsilk Fashion Week.
Act 1's second show belonged to the debut collection of young designer Zonia. Her menswear and womenswear  collection was entitled "Aurora Luminescence – The Glowing Murk" which was inspired by an amalgamation of two tremendous natural wonders to achieve a manmade termination in the form of experimental garments, which are a concoction of colour inspiration from Aurora waves and the silhouettes are attained by focusing on bioluminescent mushrooms which are ruffled, frill yet composed. The attributes of all garments differ in light and dark.
The collection utilised unique and unusual fabrics combined with a white luminous fabric which glowed in blue or green focusing mainly on the luster and drape of the fabric. Garments were without any embroidery but includes soft ruffles, J shaped cut lines, layering and white piping while white trims and white glow in the dark thread. On her debut and design aesthetic the designer said ""I believe in following my own pace, my own instincts and trust that no matter what I will get it right!…my designs are for people who love details, are confident, smart and desirable"
Zonia won the first national painting prize in a competition held for children all over Pakistan organised by National Arts Council at the tender age of five. This inspired her to keep moving forward in the field of fine arts.  In 2010, she was the recipient of the Lux Style Awards academic scholarship and earned a graduating distinction from the Pakistan School of Fashion Design.
Next on the runway was Karachi based designer Zaheer Abbas with his womenswear collection for the PFDC Sunsilk Fashion Week entitled "Myth". For this collection Abbas had drawn inspiration from elements of art and architecture along with Roman sculptures influenced by 'wet drapery', a term used by art historians to describe cloth that appears to cling to the body in animated folds while it reveals the contours of the form beneath. Based in pure chiffon, the collection carried motifs such as pillars, vases and acanthus leaf embroidered in antique gold and copper, creating a true synthesis of inventiveness and practicality.
Zaheer Abbas' inspirations were driven from East to West and from history to the future. For his second showing at the PFDC Sunsilk Fashion Week, Abbas went back in time; from classical statuary to modern dresses for his Spring/Summer collection. About his collection the designer said "Through the centuries, art and fashion have achieved their own transformations, Roman sculptures and their drapery is one example that creates a spectacular synthesis for which not many words are needed, the beauty speaks for itself"
Zaheer Abbas gained critical acclaim in a short span of time and is best known for the graceful simplicity, flawless construction and artistic approach in his designs. He launched his label in April 2010 with a debut show at Fashion Pakistan Week 2.  Zaheer Abbas showcased his "Rise and Fall" collection at PFDC Sunsilk Fashion Week Mar/Apr 2011 to much acclaim and was thereafter selected to showcase at Prêt-à-Porter Feminin in Paris this September 2011.