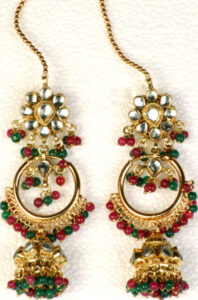 Jewelry is one of the foremost interests of ladies. Their choice may differ but it is definitely one of the essentials for us ladies. Earrings are a must. Right choice of earrings compliment your face cut and make your face look prettier. Earring fashion has always been considered elementary in all times. Whether it's small dazzling studs or dangling earrings, ears should be accessorized. It is impossible to ignore the restoration of traditional trends in the new jewelry fashion. Either formal or casual, both are equally influenced by the traditional style.
Baaliyan, circular shaped ear accessories is one of the ancient yet all time trendy styles. It never gets old rather every season comes up in different materials or colors as new trend of the day. With casual wear, colorful metal or plastic Baaliyan gives you a very bubbly look and with formal or semi formal wear silver, golden or matching colored Baaliyan adds sophisticated touch to your look and it also enhances traditional flavor in your appearance. One of the many qualities of Baaliyan is that it suits you no matter which age group you belong to. It does not snatch away the beauty of your age instead enhances it.
Earring fashion is equally popular in western and eastern both sides of the world and Baaliyan, circular shaped ear accessories are the most desired styles in earrings. These circular, dangling, glimmer or polka dots funky hoop earrings are the modern version of Baaliyan. Time has certainly transformed these in a better and more attractive shape but even now traditional Baaliyan with formal wear automatically becomes the centre of attention for everybody.
By the passage of time, the range of material used for circular shaped earrings is increasing. At present, you can easily find, metal, plastic, decorated with colorful beads, feathers, wooden pieces, threads, fancy studs in a large variety of colors, in your desires size circular shaped earrings. Baaliyan is the style of yesterday, today and tomorrow. This trend going to last long.