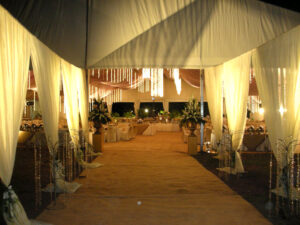 The wedding season is around the corner and people are fussing about the perfect place for their wedding to take place in. Pakistani weddings are famous for their bright, colorful and grand celebrations. Pakistani wedding functions start almost a month before the actual wedding day. Creative ideas, pretty jewelry, traditional clothes, music and dancing are some of the things that can be witnessed at a typical Pakistani wedding.
Pakistani weddings are a perfect blend of traditions and fun. The whole family and friends get together and share happy moments. The Pakistani weddings are a reason to look good, have fun and cherish the moments. The brides dresses to her makeup, the groom's sherwanis and other clothes to the gifts exchanged between the two families, everything is so important but all this and much more, nothing can be done without choosing the best venue for your special day.
People usually prefer to have a typical Pakistani wedding with lots of colors and fun. There is no doubt in the fact that Pakistani weddings that are arranged in open by caterers are more fun and one can experiment with lots of designs and ideas for the Pakistani wedding decor. However, the weather in Pakistan is quite unpredictable and you never know when a rain storm, extreme chill or heat might ruin your whole function so there are also a number of people who like to be on the safer side and prefer their Pakistani wedding to be indoors.
Pakistani weddings' functions like mehndi and mayoon are usually held outdoors because of the number of ideas that can be used for the decor for these functions. The wedding planners can execute many different ideas when it comes to the decorations for Pakistani weddings that are held in the open. More colorful ideas for flowers, lights, food and seating arrangement can be done if the function is being held outdoors. Outdoor Pakistani weddings look grander and also depict the typical Pakistani culture.
Barat and Walima are the more sophisticated functions of the whole Pakistani wedding and having these functions indoors in halls is not a bad idea either. One can keep the whole thing simple by having the Pakistani wedding indoors. Usually in Pakistani weddings held inside halls, there is a restriction when it comes to decorating the place according to one's own will and it does not give as much of a grand look as compared to the Pakistani weddings held outdoors. Pakistani weddings done by caterers are loved by all but the extreme weather conditions can sometimes come in your way so being on the safe side is not a bad to have your wedding inside halls too.
So, choose the perfect place for your Pakistani wedding according to your own desire and make the best out of it. Indoors or outdoors go with the perfect decoration ideas and plan the function accordingly. You are sure to make your functions memorable!