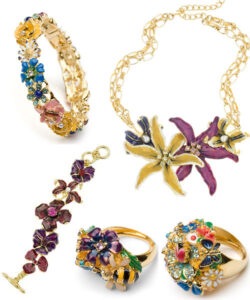 Flower jewelry is making its place in fashion industry now. The charms of flowers are used in two ways and the flower jewelry trends in both of them are worth seeing. They are flower jewelry made by flowers and the flower jewelry made which are inspired by design of a flower. Here we go explaining the each trend in these 2 categories.
Flower jewelry by natural flowers:
Flower jewelry made with natural flowers is the historic and the most enchanting one. You can make tikka, matha pathi, bracelets and earrings from motiya, genda and jasmine flowers. Other flowers like tulips are also used in the flower jewelry. This trend of flower wearing flower jewelry is very in nowadays in mayo and mehndi. The bride and the groom and bride's friends wear this beautiful flower jewelry which not only suites the environment but their yellow mayo dresses too. Flowers have the concept of delicateness and fragrance associated with it and yeah the bride is termed as innocent and delicate so the bride and the flower jewelry trends in mayo are made for each other.
You will be amaze to know few years back ladies in the house used to make this jewelry by themselves just by having a needle, thread and lots of colorful flowers around them but nowadays you will find many shops with flower jewelry experts/artists, they can make any design of flower jewelry for you in minutes and with peak of perfectionism. So, do try once the flower jewelry of natural flowers.
Jewelry inspired from flowers:
Now here you go for real fun. Have you seen those glamorous, shiny and stylish silver, gold and diamond jewelry which are made on the design of your favorite flower?
If no then here is a new flower jewelry trend for you. Tulips, lily jasmine and corn flowers are the inspirations to design the most expensive worth trendy jewelry. The corn flower designed flower jewelry can be heart taking too when you wear it in form of garlands and bracelets. If you are made for looking the unique and shining lady on the floor then you must have a couple of fine jewelry inspired from numerous designs of flowers.