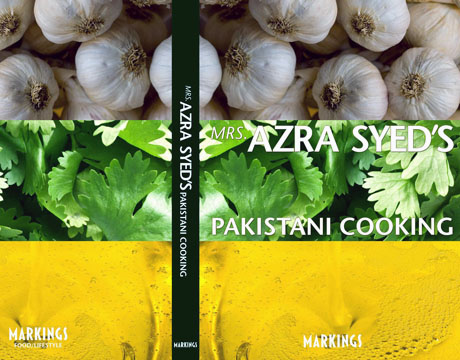 Following the success of their first title "BHV Zoo – Life at Bahawalpur Zoo" by Amean J, Markings Publishing proudly presented its second venture "Mrs Azra Syed's Pakistani Cooking" at a well attended launch event. Easily one of the most creative and versatile culinary personalities in Pakistan, Mrs Syed's book is inspired by her desire to simplify Pakistani cooking for the younger generation and aspiring chefs.
The garden setting launch was attended by diverse personalities ranging from aspiring chefs, Mrs Syed's students through generations, celebrities and food fanatics alike including Including television personalities Jahanara Hai & Hina Bayat; photographer Amean J; fashion designers Safinaz Muneer, Nida Azwer, Maheen Karim and Farida Qureshi; brands and external communications manager Unilever Pakistan Fareshteh Aslam and CEO of Dawood Capital Management Tara Uzra Dawood.
The evening was opened by Tuba Arshad, Creative Manager at Markings, who introduced the book and explained how it was manifest of Markings' philosophy to nurture a platform that encourages a diversity of expression and knowledge. Filmmaker and President of the Citizens Archive of Pakistan Sharmeen Obaid Chinoy, also  also spoke in her capacity as Mrs. Azra Syed's grand daughter on her earliest recollections of her grandmother's cooking and how she has touched the life of many though her cooking. Mrs Azra Syed herself closed the launch with a speech recounting her career in the culinary arts and the importance cooking holds to her. Indeed to quote Mrs Syed:  "Pakistan has a rich culture of food which in the past was carried down from generation to generation, but in the hurly-burly of modern life that fine tradition appears to be dying.  I find many young women enjoy cooking western food but find our Pakistani cuisine too difficult to cook. I have always simplified recipes and encouraged young women to try them at home- Now through this book, I hope that Pakistani food finds itself on tables across modern households and young women enjoy cooking traditional foods for their families and friends"
A comprehensive tome on Pakistani cooking, "Mrs Azra Syed's Pakistani Cooking" includes: a basic introduction to the kitchen, required kitchen equipment, cooking terminology and tips –all of which are deemed essential to those new to cooking; an overview entitled 'learning to cook', which includes oft needed translations of common ingredients required in Pakistani cooking, from Urdu to English; a section of recipes specific to bread and breakfast; a chapter dedicated to extensive main course recipes from how to make a basic 'Aaloo Gosht' to 'Beetroot Bhujia' as well as a chapter dedicated to creative Pakistani snacks including 'Noori Bangles' and 'Cabbage and Cheese Cutlets'. Mrs Syed's cook book also includes a versatile repertoire of recipes for her famous pickles and chutneys as well as a chapter dedicated to easy to make sweets and treats. A helpful feature within this cook book is also Mrs Syed's chapter on how best to work with leftovers. Her final chapter is dedicated to custom made menus, perfect for dinner and lunch.
Kiran Aman, the entrepreneur and indeed force behind Markings said on the launch of this second title: " Markings Publishing looks to provide avenues for giving voice to a diversity of expression and knowledge.  With Mrs Azra Syed's Pakistani cooking book, we hope to provide inspiration for the accomplished cook yet also to set out basic guidelines for those who are less assured in the kitchen. We have endeavoured to work with Mrs Syed's infinite knowledge and seasoned history in the art of food to artfully put together innovative food styling ideas and photographs which will hopefully make you want to start cooking for your loved ones right away!"
Edited by Fareshteh Aslam with art direction by Tuba Arshad and photography by Kohi Marri "Mrs Azra Syed's Pakistani Cooking" is now available at Liberty Books for PKR 2000.