Pakistanis despite of all the cold war with India, manage to win their hearts in one way or the other, and this time celebrities have taken this step to leave the Bollywood fans spell bound. Their singing talent and acting skills have left a mark on the hearts of Indian people and media greatly; which the majority believes is a step forward to make good ties between two nations.
It is mostly said and believed in Pakistan that making a good name in other countries is quite a hard task. Especially when the other country is India; but this rule doesn't seem to work for the Pakistani celebrities. Considering all the fame and response that they got from Bollywood is just amazing and unbelievable.
May it be Singers, Actors, Musicians or other stage artists they always leave a spell in Bollywood. Time and again they've not only proved their talent in Bollywood but they also won numerous awards.
When Pakistani signers launched their albums from Bollywood recording companies the next big thing that happened was they started getting contracts for different Indian movies, which made alot of Bollywood fans and anti-Pakistan people a little offended, but right after their music records were released the whole Bollywood fan base and other Indian people were just spell bound. They admired the music very much and also took the whole situation in a very different and positive way. Fans believed that this can result in a healthy relation between both countries.
This was not only restricted to Singers or Musicians, even actors and actresses from Pakistan when they were given a role in Bollywood movies they did it with all their heart and devotion which again resulted in a very positive feedback from the Indian Media.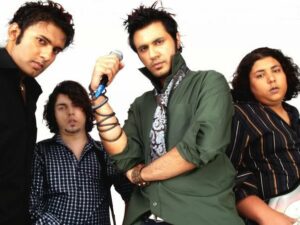 The media and Bollywood directors were so inspired by the acting of Pakistani celebrities that they thought anyone in Pakistan is capable of doing good acting, well, if not everyone then most of them. At least this is the only understandable reason that why would a Director from Bollywood offer a role to not a film actor but a real life Cricketer Shoaib Akhtar in his movie "Gangster". Though the offer was denied by the cricketer by this did send a wave of craze in the media.
The Bollywood tv shows and music competitions also proved to be a good platform for the emerging stars from Paskitan. After the famous Pakistani Celebrities casted a spell in Bollywood, they opened up participation platforms in their local competitions for Pakistanis too. These competitions also brought up some very good talent from Pakistan and these emerging young stars won numerous awards in these competitions.
To name a few celebrities that actually left a mark on the heart of Bollywood Fans are Atif Aslam, Jal The Band, Roxen The Band, Raahat Fateh Ali Khan, Ali Zafar and Adnan Sami. These musicians did not only manage to get songs contracts from Bollywood movies but their recorded albums were one of the best sellers in India and Pakistan both. Meera G and Veena Malik showed their acting skills in Bollywood movies and they also left a charismatic impression on the fans.