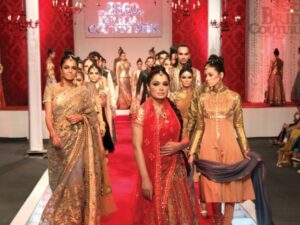 At Style360 Bridal Couture Week Karachi 2011, Pakistani Fashion Designer  Mehdi and Choreographer Hasan Rizvi passed their remarks about the Bridal Couture Week and also discussed the high spirit behind it.
It is one of the biggest events for Pantene. I was part of the Style360 Bridal Couture Week held in Lahore and it was a great event there and everybody just loved it so I came here. It is  very well-organized and things are going good and I'm expecting a lot today so I think it's like a grand event and I'm just simply lucky.
I guess because of Pantene this has come to this level otherwise it would have been difficult, definitely so Pantene has added the touch of brand to it and it's a brilliant idea.
Hasan Rizvi – Choreographer
Style360 Bridal Couture Week has shown what talent we have, whether it's in choreography, set-design, make-up, jewellery or fashion design. It is showing the world what we have to offer and it's about time our talent is promoted the way talent is promoted around the world.  Kudos to Sultana appa, Vaneeza and Pantene for bringing talent forward and promoting them. It's a great thing for a brand like Pantene to be getting involved more and more with events like these, because at the end of the day we need to open our doors to everybody.
Today I feel we are going towards the right track: opening doors and not ostracizing anyone.