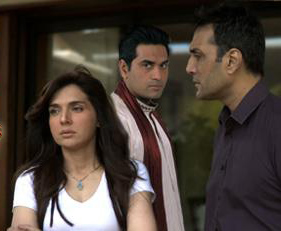 Mohabbat Rooth Jaye Toh is a Pakistani Drama Serial which is a direct hit at prevailing illiteracy in the rural areas of Pakistan, which is destroying the lives of women in our society. Centuries old traditions of child marriage, marriage with Quran and honor killings, which are still blemishing the beauty and romance of rustic culture of our country, are boldly dealt in this drama.
Mohabbat Rooth Jaye Toh revolves around the lives of three friends Zain, Shumail and Shahnawaz are friends who live abroad. Shahnawaz likes Shumail but after she rejects him, he goes back to Pakistan where his parents try to force him to marry his childhood fiancée. However, Shahnawaz runs away before the wedding and in due course marries Shumail, and they move abroad.
Meanwhile, Shahnawaz's sister Bhaag Bhari is made to marry the Holy Quran. Shahnawaz contacts his father, who forces him into a second marriage. He agrees on the condition that he is permitted to take Bhag Bhari with him, but discovers too late that his father has plans that could lead to the destruction of their lives.
The drama focus on Shahnawaz's journey to find peace and happiness for himself and his family, Will he be ever able to achieve that?