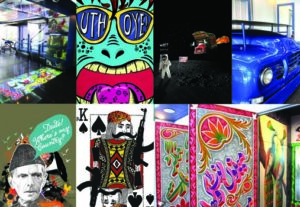 Uth Oye! unveils their flagship store on a special one day launch slated to begin at 6 pm. The store features truck art interiors, graphic design installations and a retro arcade machine while the launch event features performances by Quadrum and a "crazy photobooth".
As part of their brand philosophy, Uth Oye! has recently partnered up with ADP (www.developpakistan.org) to construct natural bio-gas generators for the people of Khushab in a community that had no access to natural gas and shall continue to invest into other sustainable causes further down the line.
This event organized by J&S.
Place: The Uth Oye! Store, Ali Towers, MM Alam Road, Lahore