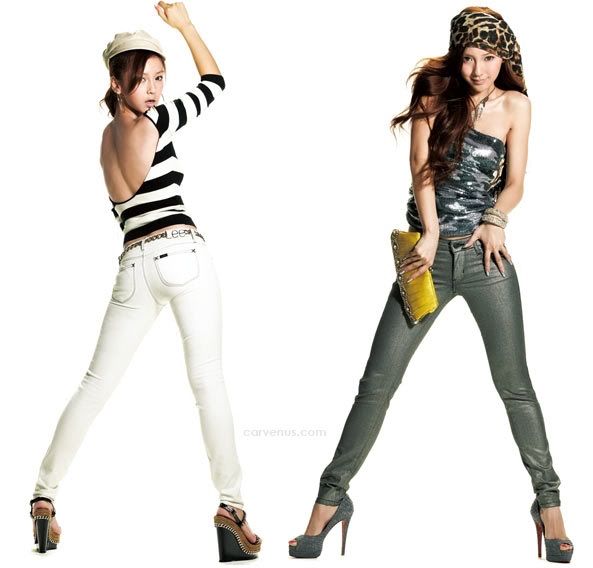 Jeggings are becoming a hot trend in Pakistan and around the world. Jeggings fashion in Pakistan is gaining popularity fast among the masses.
Fashion and clothing industry is always coming up with new ideas and styles of clothes that catch the attention of the masses around the world and become a part of the ramp. Jeggings is one of those innovative ideas that have become a favorite within no time. Jeggings trends are already changing over the seasons and jeggings fashion in Pakistan is also becoming a hot trend.
Jeggings are actually jeans that are skin tight like leggings, because of which the name "jeggings" brought on. These were initially made up of denim jeans but now they are also available in different nylon fabrics and colors. They are available either with or without pockets and belt loops. Jeggings came up just a few years back when a demand for even tighter pants came about. Jeggings made of denim are also referred to as "pull-on jeans".
Jeggings trends also refer to a few rules that should be considered before wearing jeggings. Jeggings should be worn according to one's body type. If you are curvy and tall, then you would look great wearing them. Even you are short but curvy, you would look good. However, apple shaped people should avoid wearing jeggings, as it would make the bulge more visible. Another thumb rule is that the dress you wear with jeggings should cover your hips; short dresses look no good on jeggings.
As for the jeggings trends, dark colored jeggings are in for the jeggings trends this summer. If you are a first time buyer, then definitely go for the darker shade. From T-shirts to sweater dresses, they would go with anything that you wear with them.
Jeggings in Pakistan are getting a hot trend and getting even more popular in the summers. A few designer outlets like BLOCK SEVEN have come up with a complete line of dresses that you can wear on jeggings. Jeggings fashion in Pakistan is becoming popular with a printed tunic. Add a belt to give it a wonderful look. You can even wear it with a chiffon kaftan or a poncho. A loose T-shirt and a tote will also do the look for the day.
There is a huge variety of the dresses that you can wear on jeggings in Pakistan. You can go with a loose dress with heavy neckline and even embroidery on it. Different floral dresses, glamorous sleeveless dresses with beautiful neck strings, loose cotton tops with belts and lots more.
Last but not the least, jeggings in Pakistan and around the world is loved being worn with both heels and flats. You just have to try on and decide which one goes with your style and occasion. But remember, jeggings are a casual and not a formal dress.