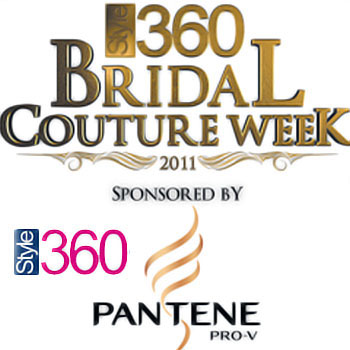 The second day, first segment of Style360 Bridal Couture Week organized by Style360 and sponsored by Pantene, in association with J&S, opened with Mona Imran.
Mona Imran has been doing bridal and formal collections for the past ten years. She specializes in bridal wear, creating exquisite and delicately handcrafted masterpieces that are timeless. Aside from her remarkable range of designs for brides, she is known for her creative and unique formal and semi-formal dresses. Lehngas, saris and shalwar kameez are her forte. Mona Imran is a unique addition in the world of fashion.
Marking the end of this first segment was Shireen Hassan.
The talented designer Shireen Hasan's journey on the path of fashion started seven years ago, when she began creating and crafting elegant designs to add aura to women's personalities. Her handmade chic and exclusive bridal and formal dresses are a fusion of eastern traditions and western sensibility, using the best indigenous fabrics with a modern silhouette, with opulent detailing and intricate embellishments. Shireen Hasan also deals heavily in block prints. Having done three solo shows in Lahore, she has outlets in Lahore, Islamabad and Karachi and she exports to the UK and India. The collection Shireen Hasan is showcasing at the Style360 Bridal Couture Week 2011 is a coterie of vibrant colours and is befittingly titled 'Rang de Basanti'.
Segment 2 of Day I was opened by Lahore's famous Lajwanti.
Lajwanti
Celebrating over a decade of commitment to excellence, Lajwanti persists in beguiling with a classy blend of the contemporary and the rich traditions of the land. Proud to be one of the pioneers of the indigenous fashion industry that gave new meanings to haute couture and bridal trousseau, Lajwanti comprises the lovely and ingenious couple, Syed Afzaal Ali and Shawana Afzaal known as Ana, who have together woven ceaseless magic over the years. Lajwanti has an exclusive weaving unit that weaves silk in the traditional way and yet creates one masterpiece after another in a distinctive way. The addition of prêt-a-porter to the enthralling Lajwanti ensemble is yet another milestone, broadening the brand's horizons as well as the very varied and loyal clientele that it enjoys.
Zainab Sajid came in next.
Among the most talented fashion designers of Pakistan, Zainab Sajid is another shining name. She has been serving the world of fashion through her unique and stunning work for many years. The main emphasis of Zainab Sajid is on detailing with intricate embellishments, elaborate elements, innovative cuts and utilizing the finest fabrics. Zainab's designs originate from elements of movement and dynamism, from birds, music, rain trees, gemstones, jewels, flowers and existence itself. They portray many moods of the day, adding a burst of glamour and festivity, creating a new sophistication and refinement in the art of living.
Zainab mainly focuses on bridal wear, but also designs formal wear and classy semi-formals. Her designs symbolize the cultural heritage of the east fused with western sensibility. They reflect supreme eastern traditions leaving an impression which is elegantly chic yet sophisticatedly modern. The fundamental aim of Zainab Sajid is to create a look which is trendy, modern and glamorous.
Hajra Hayat closed the evening.
Inspired by the '60s when grandeur was showcased with sophistication Hajra Hayat brings back the shades of plums and violets with bursts of coral pinks incorporated with designs that spell elegance and class, and cuts that befit the women of today…..volumes in their purest form and layers that transform the ordinary into special. Representing Pakistan all around the world since 1998 this fashion house has launched many brilliant names of the fashion industry. Tonight she displayed the most beautiful blend of modernity and tradition through her collection ROYAL'E.
The surprise element on the first and second days was Rubya Chaudhry performing in-between shows; she was performing for the first time, and that too on a catwalk, to Hasan Rizvi's choreography. The first day Hasan Rizvi's troupe of BodyBeat had also entertained the audiences, and brought the house down with their lively mehndi dances, so apt at a Bridal Couture Week.
The impressive line-up of 48 models included both local and international divas. Renowned names like Iraj, Nadia Hussain, Rabya Chaudhry, Tooba Siddiqui, Zeeshan Shafi and Abrar Khan among many others represented Karachi, while Ayaan, Cybil, Neha, Nadia Ali, Rabia Butt and Iffi among many more represented Lahore. Dubai models included Sandy, Diana, Daria and Fifi among others.
The stylists on the three days were Sabs (on day 1 and day 3) and Ruqqaya and Depilex on day 2. The show was produced and choreographed by Vaneeza Ahmad while Tapu Javeri provided the music. Over 40 stalls dealing with bridal-related products and services including giveaways, jewellery, clothes, shoes, salons, honeymoon packages and hotels filled the exhibition hall and were viewed by thousands of people who came everyday to visit these stalls and see the shows.
The designers of day one, segment one were India's top designer JJ Valaya, and Pakistan's veteran designer, Neelo Allahwala.in a magnificent way, opening much to everyone's amazement with a designer that everyone had been expecting would culminate the three-day show – the famous Indian designer J.J.Valaya. Segment two opened with Maheen Khan, followed by Aisha and Somaiya, and closed with Rehana Saigol.
This was the second Bridal Couture Week to be organized by Style360 – the first was held in November in Lahore. The next event is scheduled for September this year in either Lahore or Islamabad.