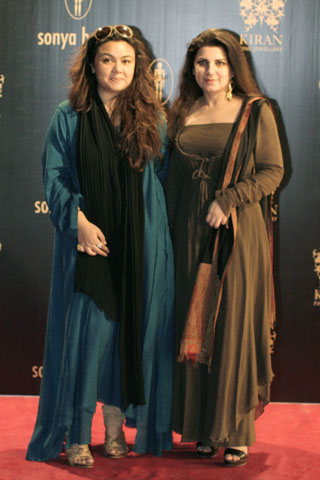 Kiran Aman of Kiran Fine Jewellery and her brand ambassador, fashion designer Sonya Batla came together in a collaborative and innovative event to present their respective collections for 2011, both inspired by the Stars and Galaxies, at the PIA Planetarium. The conceptual event included a series of jewellery and fashion based displays across the venue and a unique audio-visual presentation narrated by Naad-e-Ali Zaidi with text by Kiran Aman, highlighting the basic inspiration for the two designer's collections'.
Kiran Fine Jewellery's collection entitled 'Meet Your Void' was based on the idea of suspension of irregular shaped stones held by uneven textured gold but in the harmony of balanced designs, this suspension brings into focus the beauty of imperfection and its existence in a negative (empty) space. The inspiration of uneven stones and strong durable structures to create these abstract designs had been taken from the planets, stars, galaxies, and the contents of intergalactic space.
Sonya Battla's 'Stellar Collection' was inspired by the Constellation, based upon the delicate network of the galaxies. This collection aimed at comprehending the unique positions, functions and various developmental stages of handpicked stars and planets that comprise the universe. It was a study of the uniqueness of each stellar object in the vast constellation and an endeavour to define infinity via this context.A diversity of personalities were in attendance at this collaborative event including; artist Aliya Chinoy, restaurateur Rasikh Ismail of Café Koel, photographer Amean J, art collector Khurram Kasim, fashion designer Nida Azwer, Brands and External Communications Manager Unilever Pakistan Fareshteh Aslam, Jamal Baquar of Samba Bank and CEO of Dawood Capital Management Tara Uzra Dawood, amongst a variety of other guests..
Speaking about this event, Kiran Aman said:  "The collection Meet your Void was inspired by suspension and void's, just like they exist in the galaxy. Showcasing at the planetarium thus felt only natural and relevant, allowing guests to view my work in a manifestation of the environment which inspired it. Also, I believe that fusing avant garde multipurpose jewelled pieces with Sonya Battla's fashion collection for this event blends clothes with jewellery in a completely innovative way, defining and exploring new collaborative avenues."
On working with jeweller Kiran Aman, fashion designer and KFJ brand ambassador Sonya Battla has said "It's been exciting to fuse the pieces and the clothes together to create an outfit."
Kiran Fine Jewellery's latest collection will be available at the KFJ flagship store from the 10th of March 2011 and Sonya Battla's collection is now available at her boutique.