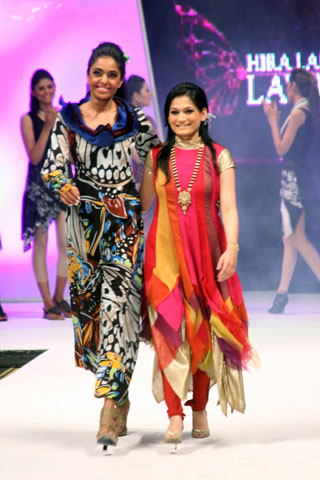 Hira Lari launched her lawn collection on the 8th of April at PC Marquee, Karachi, the crème de la crème of media and corporate sector were present at the event.
Hira Lari recently came back from London, where she graduated from the London College of Fashion; it has been her long time desire to design lawn for the parent company – Afroze Textile Industries. Her inspiration behind the collection is the beauty of art and nature mostly influenced by animal prints, marine life, and flowers.
The fashion show started with red carpet graced by the presence of known media faces; Mr. Tariq Amin, Ms. Nazneen Tariq, Mr. and Mrs. Fakhir, Ms. Tehmina Khalid, Mr. Ahmed Chinoy – CPLC, Mr. Kaleem Siddiqui – BYCO, Mr. Altaf Hashwani, Mr. Kaukab and Saba Ansari of Sabz and many more, this was followed by a speech by Mr. Feroze Alam Lari – CEO Afroze Textile Industries.  The seven wonders of Hira Lari Lawn came next; and then the lavishly elaborated ramp-walk by top models; Iraj Manzoor, Fayeza Ansari, Fauzia Amir, Maha, Zeba Ali, Rubya, Zil-e-Huma, Koni, Sherry, Sana and Hira Tareen, showcasing twelve prints, each comprised of four assortments in the collection, that highlighted the variations and creativity put in by the designer Hira Lari, who herself looked stunning in her colorful outfit.
Hira Lari Lawn is also organizing an exhibition of the same collection on the 17th, 18th, and 19th of April at Imperial Lawn, II Talwar, Karachi. The various color prints in the collection are; Antique Paisley, Ethnic Motif, Seaweed, Colorful Stripes, Silk Flower, Floral, Daisy, Safari, Evolution, Fusion, Glamour and Butterfly. All of these prints were designed on soft fabric keeping in mind the season of summer. The Event and PR was managed by Eventage (An event management wing of Mass Advertising).