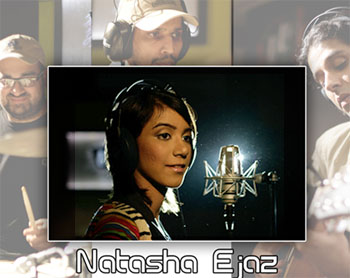 Ufone's acclaimed youth music initiative Uth Records proudly announces its fourth featuring artist to debut on 11th March 2011, Islamabad based singer Natasha Ejaz.
Following the excitement brought to Uth Records by young rock band Jumbo Jutt, contemporary Pashto folk artists Yasir & Jawad and the classically inspired musician Usman Riaz, Uth Records introduces singer/songwriter Natasha Ejaz.Influenced and inspired by genres such as Acoustic/Jazz, Indie, Folk, Dream-Pop, and Alternative Music, Natasha is currently pursuing a certificate in Audio Engineering in Malaysia. At Uth Records, she will be performing her second single, 'Right Way To Fall'.  In addition to resident producers Gumby and Omran Shafique, this session will also include the dynamic producer, songwriter and musician Taha Malik, better known for his experimental approach to dance and hip hop styles of music, with his band Kostal and his work with artists such as Stereo Nation, RDB, Mauj, Sukhbir, Kaysha, Najam Sheraz, Bohemia and Haroon, amongst others. "When I sent in my demo it was of 'Today is a place'.
Gumby said that he wants to work on something that isn't already out there and present with a different flavor, just so I keep surprising the listeners. We finally hit the mark with right way to fall… It's a song I wrote when I was in a very pensive mood and was almost floating between reality and this other place.
It's very descriptive; I hope it appeals to people's sense of loneliness in a crowded room." said Natasha on her song selection process and recording.
Speaking about their work with Natasha, producers of the project, Gumby and Omran Shafique of LJP Studios have said "Natasha is one of the very few singers in Pakistan whose unique voice defines the new age of female musicians in Pakistan. When she came in with her choice of songs and her signature style, we thought we'd give her a new feel and sound, and as producers it's always good to be working with someone who has an open mind to experiment with new ideas and soundscapes. With Taha in the picture, we were very confident that we'd come out with something Pakistan has yet to witness. So here's introducing Natasha!"
Syed Babar Wasi Senior Executive Brand Activation & Operations at Ufone has said "Natasha Ejaz is a wonderful young talent from Islamabad who brings a fresh sound to Pakistan's Uth music scene. We are delighted to bring her distinct talent to this platform."
Directed by Zeeshan Parwez, Uth Records episode four will be airing on ARY Digital, HUM TV, Oxygene, TV One, PTV, Dawn, ATV and G Kaboom starting 11th March.