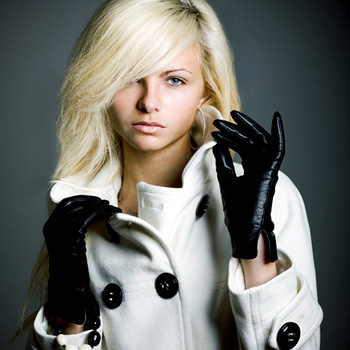 A glove is a piece of clothing that covers a hand and there are different kinds of warm and fashionable gloves available in different fabrics and materials.
Men and women wear gloves to keep their hands comfortable, warm and funky. They are used in various ways. Nowadays, women are wearing leather gloves as a part of fashion statement. As compare to men, women have always wanted to look different from their counter part. Women do all they can like cosmetics, branded outfits and different fashion accessories to highlight their looks and boost their appeal, in the beginning there were hats, scarves in fashion and now he designer fashionable gloves are making their move.
There are gloves available in various materials like, cotton and satin, it is the leather gloves that are an all time favourite with women all over the world.
The most famous fashion gloves which women like to wear are long leather gloves. They look very fashionable and stylish while wearing. There are variety of long leather gloves such as spring leather gloves, black leather long 8 button big buckle gloves. Ladies Leather long Quilted, 16 button lace Fingerless gloves, and 16 button lace Fingerless/Ivy are the most famous and classical gloves of all.
Though, white and black are the colours that are most popular now, women can also find the ladies leather gloves in various contemporary and lively colours like burgundy, gold, green, grey, earthy brown and violet and you name it.
There are driving, patrolling and simple weather gloves available for men also and their price range from Rs 50 and above.
The different varieties of fashion gloves for men and women give a wide range of options to the wearer for both relaxed and formal dresses. The fashionable gloves add both fashion and class to the personality of the wearer.