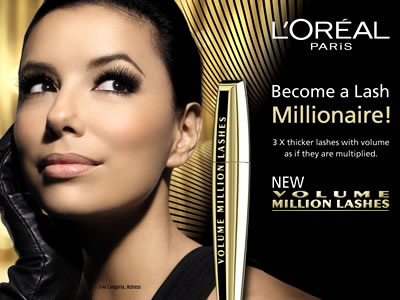 (01 November 2010) L'Oréal Paris, the world leaders in cosmetics, extends its expertise within their acclaimed make-up portfolio by introducing their latest innovation in volumizing mascara, New Volume Million Lashes Mascara – Black.
Mascaras have been an important part in history for women who throughout the ages have applied it to accentuate their eyes. Mascaras are used to help define eyelashes and make them look longer, darker, fuller and thicker. Indeed that is why L'Oréal Paris beauty experts have developed the New Volume Million Lashes Mascara which makes each lash stand out on its own and makes them look bolder, longer and much more beautiful. This versatile product not only adds volume to eye lashes but further millionizes them with its unique Easy & No Clump formula; a quick break technology, the formula becomes instantly fluid at the application and contains anti sticking agent so lashes don't stick to each other.
The mascara features a New Demultiplying Brush and a New Dispensing Wiper. The brush, a new L'Oreal Paris innovation has a multitude of bristles to separate lashes for a fanned-out lash effect. The elastomeric applicator is ultra flexible with both long and short bristles to coat each lash evenly from root to tip. While the excess wiper removes excess mascara and leaves the brush coated with just the right amount of formula to achieve maxed up volume with no overload and no clumps.
New Volume Million Lashes Mascara is worn by various top international celebrities which includes the likes of Evangeline Lilly of the award-winning television series LOST and Eva Longoria who plays the role of Gabrielle Solis in the comedy-drama series, Desperate Housewives.
Speaking about the launch of the New Volume Million Lashes Mascara, Brand Manager for L'Oréal Paris in Pakistan, Zainab Pasha has said, "Eyes are expressive and it's an important feature of female beauty. New Volume Million Lashes Mascara gives women a chance to really play up  their eyes and makes them feel like a millionaire of lashes".
Priced at PKR 1,800, L'Oréal Paris New Volume Million Lashes Mascara is now available at all L'Oréal Paris counters across the country.