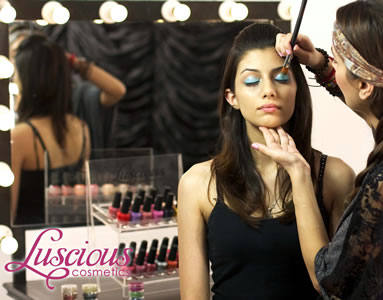 (Pakistan 22 November 2010) Luscious Cosmetics presents a series of exclusive video tutorials that focus on step-by-step makeup application from basics like how to apply foundation and concealer, to more advanced eye makeup application. The series of seven tutorials will be released on the brand's official Facebook fanpage and the brand's official website. This is the first time in the country that professional tutorials have been shot for Pakistani women reinforcing the brand's interactive philosophy and mission to remain in tune with global trends for the benefit of its fans and users in Pakistan.The videos are conducted by makeup artist Leena Ghani and created in the company's signature modern and glamorous style. The first video released is entitled "The Flawless Face". The tutorial shows a step-by-step foundation application using Luscious Cosmetics face products which are specifically designed for South Asian skin tones.
On the release of the tutorials Mehrbano Sethi, Creator Luscious Cosmetics said "As you know, Luscious Cosmetics started the trend of interacting with customers through live beauty events, other social media and my blog. These videos are an extension of this philosophy. There is a lack of proper makeup tutorials where you can actually re-create the looks used on the model using the correct products and tools. We have made it very easy to learn these techniques, focusing on fresh and wearable makeup looks. We chose Leena as our makeup director because I think she represents a fresh and current makeup style that truly represents today's trends. I hope Luscious fans will love our new videos!"
Luscious Cosmetics is a beauty brand offering luxury quality products with innovative formulas and glamorous packaging while following global fashion trends and cutting-edge technology. The brand has grown to offer a complete range of colour cosmetics, a revolutionary sun-protection product and beauty brushes. The range is versatile, constantly expanding and as the brand completes three years, expect to see a variety of products to hit a Luscious counter near you.
Information on all Tutorials:
The Flawless Face – The step-by-step process of foundation application.
Studio Secret – This video tutorial demonstrates how to apply the Luscious Studio Secret Concealer to give your skin a flawless finish.
The Perfect Blush – The basics of blush application to brighten your face.
Soft Smokey Eye – This video tutorial explains how to create the Smokey Eye effect perfect for an evening out. The video also explains step by step what products are perfect to get this look.
Twilight Kit – This video tutorial explains in detail how to use the Twilight Kits and other products from the beauty brand to achieve the perfect evening look. The limited edition kits were introduced earlier this year consisting of eight eye shadows, four lipsticks and a face shimmer.
Lip Couture – How to apply lip colour using the best-selling Luscious Lip Couture Liquid Lip Lacquer.
Precious Metals – An introduction to Luscious Cosmetics Pure Mineral Eye shadows that are available in four different sets; Summer Holiday, Stardust, Pop art, and Enchanted. This pure colour, loose eye shadow is the latest product to hit the Luscious counters and the tutorial shows how to apply the Stardust colors.