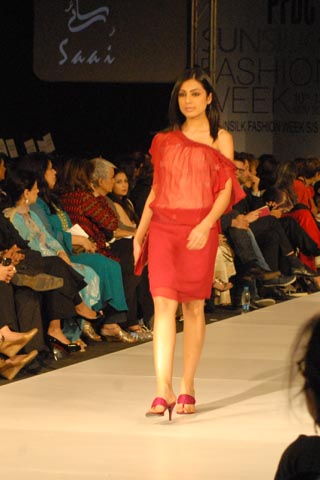 Fashion designers of Pakistan have always received warm welcome and gratitude and appreciation at many mega fashion events around the globe. This all is due to the reason that they have the guts to compete and set the ramp ablaze by their dazzling creations and mark their individuality as trend where ever they set foot. The elegance and charm of their outfits, either cultural or western or blend of these, distinguishes them then the rest and the appearance of Pakistani models clad with these spectacular and classy outfits cheers the fashion evenings ever and have great impact as well.
Pakistani breath taking fashion labels presented at international fashion weeks have created sensation in fashion world and the presence of Pakistani fashion designers in many fashion shows, fashion weeks and many fashion events, in or out of country; have proved the excellence and ingenuity of our fashion industry today and always. However, this all is not the result of one or two year's hard work but the outcome of restless effort since years which has sent our industry to the point where just a name of it brings the whole lot.
This all is because our fashion industry is providing opportunity to the emerging talent and supporting them in anyway. Many ramp shows are now being organized to be a platform for young designers so that they may grow in fashion world and can get same fame and name as their predecessors. In turn it is their laborious work that is taking them forward on world fashion ramps and providing our whole runway industry a recognition in which, unfortunately, our other areas of entertainment have failed up till now. It is merit of Pakistani fashion shows where many international fashion designers altogether get opportunity to extend their realm of fashion as Pakistan on their runways. Thanks to growing fashion shows in Pakistan and participation of Pakistani fashion designers in international fashion weeks that has enabled many designers to sponsor and launch their own fashion brands.
It is credit to Pakistani fashion shows only that have promoted our fashion world and culture worldwide and has made it an unbeatable one. As the other areas of entertainment are regaining their status now, our fashion industry is on the journey to flourish and excel the world and take us ahead on the road of success….