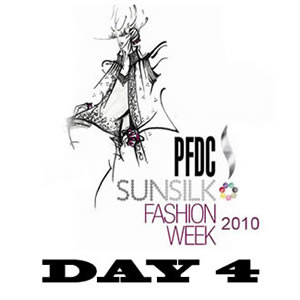 An amalgam of excitement, colour, glitz and glamour, Day 4 marked the Closing Day of PFDC Sunsilk Fashion Week, November 2010, in Karachi. Day 4 was buzzing with fashion, music and high drama! The evening's opening show was staged by Maria B., whose Fashion Week womenswear Prêt a Porter collection, "Tribal Militants" featured a diversity of fabrics such as pure cottons, khaddars, chiffons, denim, jute and silk along with knits. With an emphasis on prints, hints of culture, tribal bohemia and the sombre goth of military precision, a western silhouette was showcased. The collection drew inspiration from two of the constant forces at play in Pakistan, thus the tongue-in-cheek title of the collection, and hence was especially inspired by the Pakistani Army as they saved millions of their countrymen in the rural areas during the floods. Talking about her label the designer said "Internationally relevant and affordable fashion for the modern Pakistani woman."Maria B. is the largest manufacturer and retailer of women's fashion in Pakistan. Her eponymous brand was launched with a vision to revolutionize women's retail in the country and to create Pakistan's first women's fashion brand after her graduation from the prestigious Pakistan School of Fashion Design in 1998.  Today, Maria B. has 11 outlets across the country and 5 brands under the label including: Mafia Casuals, Mgirl, Maria B. Evening, Maria B. Lawn and Maria B. Brides. In 1997 Maria won an international fashion competition held in Belgium by the name of "Les Etoiles de la Mode". Here she was also named as one of the three upcoming designers in the world. Maria B. has always worked on an export oriented strategy, for which purpose her product lines have been displayed at fashion events across the world including in Chicago, U.S.A. (2001), Paris, France (Prêt-à-porter, 2001), New York, U.S.A. (2002), Bangkok, Thailand (Bangkok International Fashion Fair, 2002), Birmingham, U.K (South Asian Fashion Mela, 2002), Los Angeles, U.S.A. (2003), Washington D.C., U.S.A (2004), and Manchester, U.K (Asian Brides Show, 2004). Maria B.'s future plans look to double the existing workforce to meet production requirements for the new London outlet and export related production for the U.A.E. and U.K. Maria B. is currently available in Lahore, Karachi, Islamabad, Faisalabad, New Delhi, Dubai and Manchester. The label showcased its womenswear Prêt-à-porter collection "Urban Rajistan" drawing inspiration from the state of Rajistan at the debut PFDC Sunsilk Fashion Week in February 2010.
Act 1's second show belonged to 'TEEJAYS' womenswear and menswear collection for Fashion Week, entitled "TEEJAYS EVOLUTION", which was inspired by the forty years of fashion, from 1970 to 2010, at TEEJAYS – from the bohemian 70s, to the creation of military awami at TEEJAYS in the 80s and 90s and then into the 2000s where vintage was brought in with a twist, and recently, with the space age. The fabric used was mainly cotton with a hint of leather used as lowers and trimmings. Beginning with the 70s theme, the show was more flowy at the start leading into a structured look with details and finally, ending with a defined structure silhouette. Talking about her collection for the Fashion Week the designer said "Style makes man, man makes revolutionary fashion. The collection states the evolution of Teejay's revolution."
TEEJAYS was started in 1970 as a movement by Tanvir Jamshed in order to create affordable fashion for all – to break down the trend of obvious disparity in the way the nation dressed. Feeha Jamshed joined her father Tanvir's movement and while her signature is similar to the TEEJAYS brand aesthetic, it is distinct in that she emphasises specifically on the cut, simplicity and the style of her designs. TEEJAYS has in the past been a recipient of the prestigious Lux Style Award and the Indus Style Award for Lifetime Achievement. Tanvir Jamshed was awarded the Sitar-i-Imtiaz, the highest civilian award in Pakistan, owing to his contribution to fashion thus making him the only fashion designer or label to have ever received such an honour.
At the debut PFDC Sunsilk Fashion Week in February 2010, fashion designer Feeha Jamshed showcased a Prêt-à-porter collection for her brand TEEJAYS, entitled 'Diamond City'. The collection focused on womenswear along with pieces for men, inspired by Lahore, which the designer has interpreted as a city that is indeed a 'diamond' in every sense: culturally, historically, physiologically and politically. In this ode to Lahore, Feeha Jamshed's emphasis lay in the cuts and cotton fabric, Pakistan's national export.