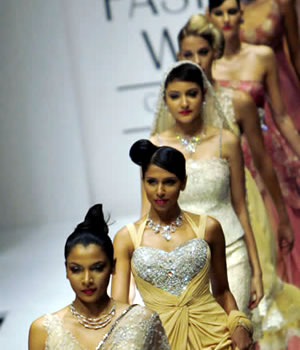 The Indian fashion designers are no doubt the soft image makers of bollywood. Yes the Bollywood which makes India recognized all over the world.In this vary Article lets discuss the indain fashion designers .The hands behind the bollywood's glamuros face.
Indian fashion designers are the shapers of bollywood fashion. Yes the bollywood whose glamour and fatal attraction just surround all of us.
Here in this article we will discuss about the indain fashion designers whose designs are not only adpoted by indian fashion spot light circles but the ordinary people also. Here we go with the list of top indian fashion designers and thier work for the indain cinema and society.
Ritu Beri –Ritu beri is among those designers who chose indian fashion not as means of fondness but she holded a degree to in fashion industry to adopt fashion industry as the profession. She have the honour of designing the costumes of indian players in common wealth games opening ceremony.
Aki Narula-Aki Narula a leading indian fashion Designer,he designes both the indian and western wear for both women and men. He  also win awards for the best designs for the indian fashion scene. He also designed costumes for wining bengali movie this year.A potential indian designer with dreams very high.
Payal Jain-Payal Jain is the owner of salon de couture in India. She have wide experience of working with top class European Designers too. Her speciality in indian fashion is that she combines both the cultural crafts with the touch of modern western looks. She also designed the costumes of many movies on the way. Payal jain a name of perfection and uniqueness.
Shantanu & Nikhil -The young Shantanu and Nikhil have a trendy eye on the indian fashion of youth. They have the prestige of many signatured stores running on thier credit which shows thier craze among young people. These potential indian fashion designers also designed the collection for leading store of los angelas.
Meera & Muzaffar Ali -Meera and Muzaffar Ali are the couple most respected in indian fashion industry.They have Speciality of introducing the Lucknow and Kotwara craft in fashion.They experimented the best in indian fashion.Thier designs are the flawless combination of modern and the old but gold collection.Most demanded indian designers ever. and the list goes on ……
The indain fashion designers are the leading fashion attractions in world. Knowing about them and letting them design your outfit can make you the uncrowned princess.