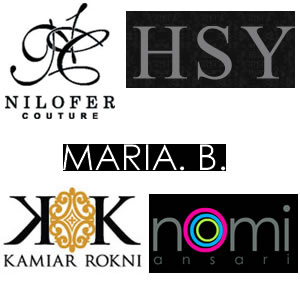 Fashion designers of Pakistan are known all over the world for their intricate designs, colourful splash of colours and excellent style of clothing.
Pakistani fashion designers are running boutiques everywhere and their dresses and styles are getting a positive response from everywhere. The clothes are a combination of East and West and cater to both men and women.
Some of the renowned designers are as follow:
Hassan Sheheryar Yasin – (HSY) is certainly making his mark abroad now since his impressive beginnings in Pakistan. The designer clothing line includes formal, semi formal and casual dresses.
Maria Belal – (Maria B) is an ambitious young Pakistani designer with vision. A graduate of the Pakistan School of Fashion Design, Maria launched her label 'Maria B' in Lahore few years back. Right after the fashion show in Pakistan, she opened the doors to her new women's boutique in Karachi. Her cotton shalwar kameez, choori daar pajama, and embroidered evening wear are a must part of evening attire.
Sara Shahid – The brainchild behind fashion label Sublime, is considered among forerunners who paved way for promoting pret trend in Pakistan.
Sara chooses simplicity over glitz in her individual artistic mannerism. Her cuts and silhouettes are subtle, but in a classic way. Her label 'Sublime' defies dramatizing fashion and style; rather presents a timeless beauty and panache in the outfits.
Her couture based collection includes 'Sublime Divine'- on the other hand, generally focuses on heavy embroidered outfits with hefty work on rich and bridal fabrics.
Kamiar Rokni's – (Karma) is one of those lucky few who always knew what it is they wanted to do with their lives. His work is an interesting mix of contrasts and contradictions. Bred and born in Pakistan, he feels more at ease designing a pair of trousers and a tank top than a shalwar kameez.
Nomi Ansari's – Clothes are a fine mix of ethnic and contemporary elements dazzled by bright colours.
Nilofer Shahid, director of the fashion house Meeras, comes from a family of warriors, poets, writers and painters. The themes of her collections reflect her deep affinity with the land of her birth – from Islamic calligraphy to Mughal architecture to the heritage of central Asia.