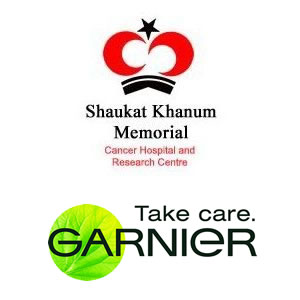 Garnier, one of the world's leading hair and skin care brands, is proud to announce its association with Shaukat Khanum Memorial Cancer Hospital & Research Centre (SKMCH&RC) for a collaborative Breast Cancer Awareness Campaign. The campaign will comprise of several on-ground activities and workshops including visits and talks to female students across universities and colleges.
These will be led by the SKMCH&RC team, featuring information sharing seminars by doctors and oncologists and talks by celebrity Brand Ambassador for Garnier, Juggun Kazim.
This collaborative endeavor towards breast cancer awareness is significant as Pakistan has the highest incidence of breast cancer in Asia. Indeed at SKMCH&RC breast cancer continues to be the highest malignancy reported and currently being treated. Given Garnier's ongoing international involvement in the fight against cancer and its global awareness campaigns, this partnership with SKMCH&RC comes as an organic step.
Speaking about the association between SKMCH&RC and Garnier, L'Oreal Pakistan (parent company of Garnier) CEO, Musharaf Hai has said: "We are proud to join hands with SKMCH in the campaign against breast cancer. It is a vital health issue for women and our intent is to promote awareness regarding both early detection and effective treatment ". SKMCH Chief Executive Officer, Dr. Faisal Sultan applauded the support of Garnier as a responsible organization of Pakistan that has taken the initiative to support SKMCH in raising awareness about breast cancer. He said that the collaborative efforts would help to make the difference between life and death for the women of Pakistan.
Garnier and SKMH&RC hope to continue their association and work for the awareness of breast cancer amongst women in Pakistan for the years to come.