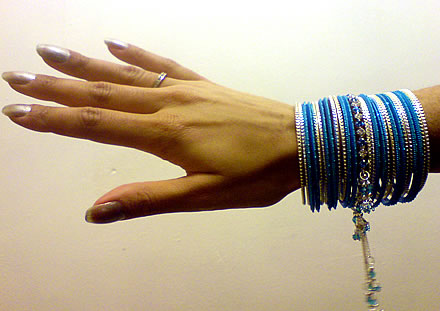 Bangles are traditional ornaments which are worn by Pakistani women. This jewellery item signifies the matrimonial life and reflects a myth that a new bride will try to wear as many small glass bangles as possible at her wedding and the honeymoon will end when the last bangle breaks.
These bangles come in various shapes and sizes, unlike bracelets which are more flexible. There are many kinds of bangles made from precious as well non precious materials such as gold, silver, steel plastic, wood, ferrous metals etc. This Eid, steel bangles in vibrant colours were in.Recently a newly invented, bangles called, Bengali Bangle, are very in where pure gold strip is thermo-mechanically fixed on bronze base, and all associated designs are done onto it. These bangles are more, cheaper than gold bangles but becoming popular day by day because of variety of designs.
There is a large variety of gold bangles in the market including cuff bangles, white gold bangles, classic shiny bangles, twisted gold bangles at various prices. Some bracelet kind of gold bangles with intricate patterns and enamel work are also making a fashion statement. Gold bangles with stones, hand crafted bangles with rubies, emarald, bangles with extensive filigree work, floral engraved gold bangles, twist bangle, designer bangles and more are continue to be in demand.
These jewellery items are a symbol of Easter beauty, women of all ages love to wear gold bangles which give them a classic look as gold has never been in and out of fashion trend.
Radiant and colourful bangles have been brightening up the lives of women since ages and are still, the first choice of the females of ornament.
Gold plated bangles have become attraction for ladies in parties, weddings, and formal gatherings in Pakistan and other Asian countries. Their designs range from simple to intricate handmade designs, often studded with precious and semi-precious stones such as diamonds, gems and pearls. Sets of expensive bangles made of gold and silver make a jingling sound. The imitation jewellery, tend to make a tinny sound when jingled.
Thus it can be rightly said that that bangles in gold, diamond unfailingly makes one look elegant.