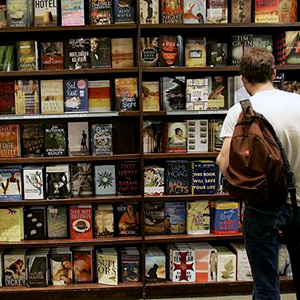 Lahore has never failed to surprise us, there is something going on every minute, every second and one is bound to find inspiration, every moment. Among its list of pleasures, bookshops continues to attract, people from every class, as it houses books of every genre from serious to comic ones.
The pleasure of reading books has lessened but still a visit to a bookshop like Mr Good Books in Raja Centre, Gulberg has been a pleasurable experience for me. Like any other bookshop, this bookshop has lot to share from fiction genre of horror, romance, mystery and so much more. "We mainly deal in fiction (novels), comics and journals and give good discounts plus memberships on all occasions," stated the Assistant Tanvir Khalid.As you browse through the shelf, you are bound to find romantic and mysterious novels of American and English literature like Mills and Boons series, Witney My Love by Judieth McNaught, The Famous Five Series by Enid Blyton. Hardy Boys series by Enid Blyton and Nancy Drew series by Enid Blyton which are particular favourite of school boys, girls even grandmothers are addicted to romance and mystery.
Old Bookshop 3, in Gulberg, is also one of the oldest bookshops of Lahore. According to Kazi Kashif, "though the trend of old bookshops has declined but still there are many who come to enjoy the pleasures of simple reading. Many have inculcated the spirit in their generation also. We have clients like PTV Producer Yawar Hayat, actress Jana Malik and socialite Mrs Ali who visit us every month and buy books on discount prices."
There are bookshops like Readings, Variety in Lahore who have added a sitting area where scholars, students and families come and share a delightful conversation over shakes, ice creams and sandwiches.
Even in this era of computer technology, old bookshops of Lahore continue to inspire people from all strata of society. You will find many 'storyteller' or 'dastaan go' still sitting in an old chair and reading an Islamic historical novel in highly dramatic manner to foreigners, children and others sitting in a circle.