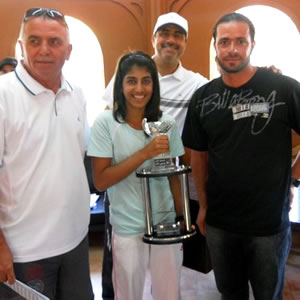 Pakistan is proud to have some precious jewels in various fields, where top fashion designers like Hassan Sheheryar Yasin, Honey Waqar have proved themselves in International arena in the field of fashion designing, there we are proud to have youngest Pakistani Tennis star, Iman Qureshi, who has made Pakistan proud on both national and International level.
The 13 year old, Iman Qureshi from Lahore is following her passions since the age of 10 and has won several awards. Iman Qureshi is currently ranked 17 in all Asia ATF championship and she is the only Pakistani player in the ranking.
In 2008, she won National Governors Cup and she was the youngest ever participant to win a national tournament in ladies single at the age of 11. In 2010, she was the proud winner at Under 14 National championship Islamabad. She was the Runner-up at Under 17 International tennis championship sponsored by Root School System in 2009. In addition to that she was the Runner-up at Punjab Junior Tennis tournament under 17, sponsored by Salamat School System in 2009.
Iman Qureshi has also proved herself a young tennis mogul abroad.  She was the Winner at ATF championship, held in Damascus, Syria in 2010. In addition to that, she made Pakistan proud at ATF championship, which was held in Aleppo, Syria, by winning the doubles championship and ranked 3rd in singles championship.
There hidden is an extremely talented tennis diva in young Iman, who still has a long way to go. We wish her a bright future ahead!